Symons Cone Crusher
Applied Material: Pebble, gravel, granite, diabase, basalt, quartz, limestone, iron ore, sandstone, coal gangue, etc.
Feed Size:

35-228mm

Capacity:

18-635TPH
What is Symons Cone Crusher?
ymons cone crusher, also referred to as Symons crusher or compound crusher, is a cone crusher that features springs and a hydraulic cylinder. It is designed to crush medium and hard ores and rocks effectively.
Compared to the spring cone crusher, the Symons cone crusher offers several advantages. It has a reliable structure, high production efficiency, easy adjustment, and economical usage. The spring safety system serves as an overload protection device, safeguarding the machine against extraneous materials when passing through the cavity.
The Symons cone crusher also adopts a grease seal form, isolating the powder and oil to ensure the machine's reliable operation. It is a versatile and efficient crushing solution for various applications.
Symons Cone Crusher Workshop
Symons Cone Crusher Selection
The Symons cone crusher offers four different types of crushing cavities: coarse, medium, fine, and ultra-fine. These cavities are designed to accommodate various crushing needs.
In terms of structure, there are two main types of Symons cone crushers: the standard Symons cone crusher and the short-head Symons cone crusher. The standard cone crusher typically has a larger feeding size and discharging size, making it suitable for coarse and medium crushing applications.
On the other hand, the short-head Symons cone crusher has a sharper cone and a smaller feeding size. This type of cone crusher is better suited for medium and fine crushing purposes.
Ultimately, the selection of the appropriate Symons cone crusher will depend on the specific requirements of your crushing application, such as the desired final product size and the feed size of the material.
The Symons cone crusher has a wide range of applications in various industries. It can be used in both the metal and non-metal ore sectors, including industries such as cement manufacturing, building construction, and metallurgy.
This type of cone crusher is suitable for crushing materials such as sand, iron ore, non-ferrous metal ores, granite, limestone, quartz rock, sandstone, and pebbles. Its versatility makes it a preferred choice for use in building projects, mining operations, and coal industry applications.
In summary, the Symons cone crusher is a versatile and reliable equipment that finds its applications across a wide range of industries, offering efficient crushing capabilities for different types of materials.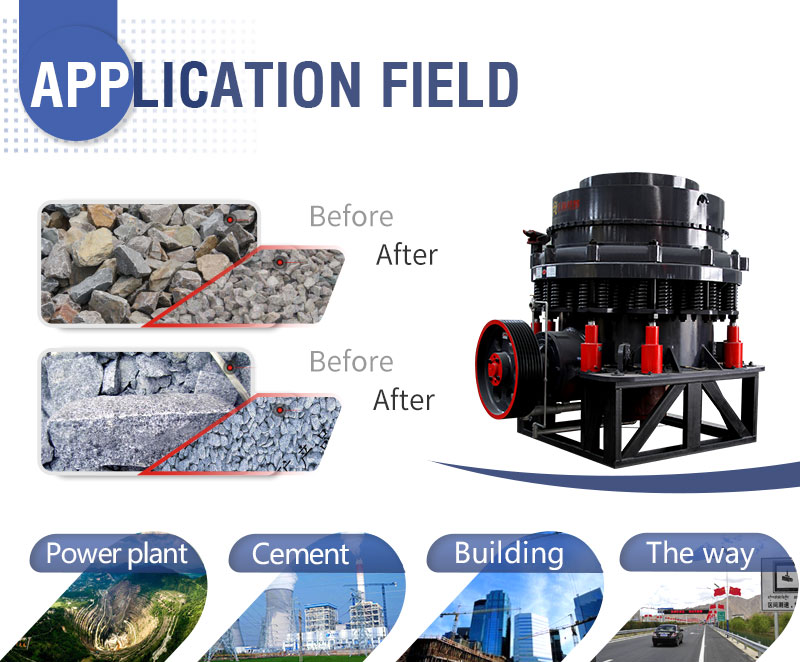 Application of Symons Cone Crusher
The Symons cone crusher offers several structural advantages that contribute to its superior performance and functionality.
Higher production capacity and better performance: The optimized crushing cavity design and reasonable crushing speed of the Symons cone crusher enable it to work with greater energy efficiency, resulting in higher production capacity. The principle of lamination in the crushing process reduces the production of needle-shaped and leaf-shaped finished products, leading to improved overall performance.
Stable operation: The Symons cone crusher is equipped with a protection device that automatically releases and resets in case uncrushed foreign materials, such as iron blocks, enter the machine. This protection device has a fixed return point at the discharge port, allowing for quick recovery of the original discharge port after the foreign materials have passed through the chamber. This ensures stable operation and minimizes downtime.
Easy to clean: The Symons cone crusher features a hydraulic cleaning system that effectively and quickly cleans the chamber when the crusher is turned off under loading conditions. This greatly reduces downtime and enhances operational efficiency.
Other advantages: The Symons cone crusher incorporates a unique dustproof sealing structure, which extends the oil change period and the service life of its spare parts. Additionally, key components are made of special materials to withstand high crushing forces, ensuring durability and reliability.
In summary, the Symons cone crusher offers structural advantages such as higher production capacity, stable operation, ease of cleaning, and other unique features that contribute to its overall performance and efficiency.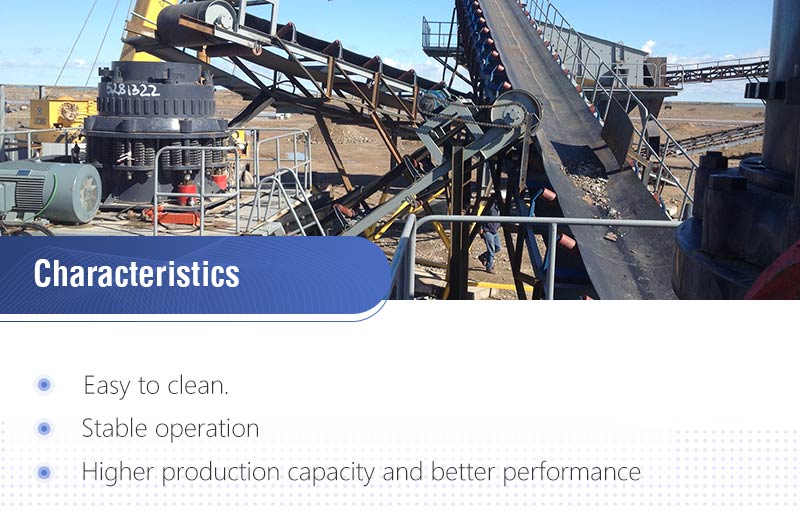 Advantages of Symons Cone Crusher
The working principle of the Symons cone crusher involves the interaction between the fixed cone (or upper crushing wall) and the movable cone (or lower crushing wall). The movable cone is positioned on the main axis, which is housed within the eccentric axis sleeve.
During operation, the movable cone rotates and swings along with the main axis. As a result, the upper crushing wall and the lower crushing wall approach and move away from each other, creating a crushing action. This motion allows materials to be crushed and subsequently discharged from the crusher.
In summary, the Symons cone crusher works through the rotation and swinging motion of the movable cone and the interaction between the fixed and movable cones, enabling the crushing of materials in the crushing cavity.
The Symons cone crusher is equipped with a safety device to protect against the entry of foreign matter into the crushing cavity. When foreign materials that cannot be crushed enter the cavity, the springs around the crusher body come into action. This action causes the bearing rings and adjusting rings to be raised, compressing the springs. As a result, the gap or outset between the crushing walls is increased, allowing the extraneous matter to be expelled from the cavity. This safety device helps to prevent damage to the crusher and ensures smooth operation.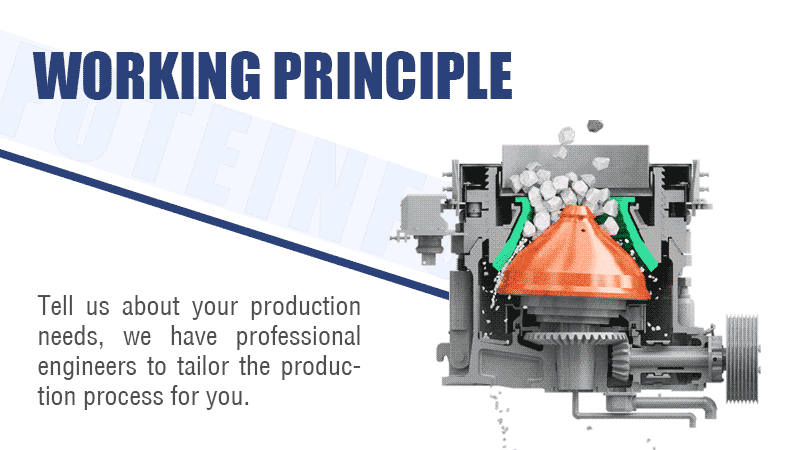 Symons Cone Crusher Working Principle
Symons Cone Crusher Customer Site
As the experienced Symons cone crusher supplier, Zoneding Machine has won great support from customers internationally for our professionally centralized Symons cone crusher factory. We are here to offer free consultation including the Symons cone crusher price and Symons cone crusher instruction manual.
General Specification
Type
Model
Diameter
of large
end of
crushing
cone(mm)
Adjusting
Range of
Discharge
Opening(mm)
Feed
opening
size of the
open edge
when
recommending
the min.
Discharge
opening
(mm)
Max.feeding
size(mm)
Processing
capacity
(t/h)
Main
motor
power
(kw)
Machine
weight
(kg)
PSG 900
0910
914 (3′)
9-22
102
85
45-91
6P 75
9980
0917
13-38
175
150
59-163
0904
3-13
41
35
27-90
0906
3-16
76
65
27-100
PSG 1300
1313
1295 (4¼′)
13-31
137
115
109-181
6P 160
22460
1321
16-38
210
178
132-253
1324
19-51
241
205
172-349
1306
3-16
64
54
36-163
1308
6-16
89
76
82-163
1310
8-25
105
89
109-227
PSG 1600
1620
1676 (5½′)
16-38
209
178
181-327
6P 250
43270
1624
22-51
241
205
258-417
1626
25-64
269
228
299-635
1607
5-13
70
60
90-209
1608
6-19
89
76
136-281
1613
10-25
133
113
190-336
Please note that the data provided above for the ZDM Symons cone crusher in Serbia's Asphalt and Limestone Line is subject to change as technology improves. We reserve the right to make changes without prior notice. It's important to mention that machine performance may vary depending on the specific application. For more detailed information and specific inquiries, we recommend chatting online with Zoneding engineers who can provide further assistance.