Sand Making Machine
Applied Material: basalt, pebble/river stone, limestone, gravel, bauxite, cement clinker, quartz, construction waste, etc.
Discharge Size:

0-5mm

Capacity:

12-585TPH
Introduction to Sand Making Machine
Sand making machine, also known as sand maker, is a type of fine crusher that is specifically designed for producing artificial sand. It functions as a tertiary or quaternary crusher in aggregate production.
Zoneding Machine has developed their own sand making machine, leveraging the expertise of their engineers and drawing on German mature technology. This combination of experience and advanced technology allows Zoneding Machine to offer a reliable and high-quality sand making machine to their customers.
In Zoneding Factory, the sand making machine is typically used in conjunction with primary and secondary crushing equipment to produce particles of 0-5mm in size.
The sand making machine in Zoneding Factory utilizes a unique and innovative crushing angle, along with different crushing methods such as stone to iron and stone to stone. These methods result in the production of finished products with a cubic shape and uniform particle size distribution. This helps to enhance the overall quality and aesthetics of the final sand product.
Maximum feed size of 3 types of sand maker (mm)
HVI sand maker
VSI sand maker
Vertical shaft impact sand maker
Sand making
<30-<50
–
–
Sand shaping
<35-<55
–
–
Soft materials
–
35-50
–
Hard materials
–
30-45
–
–
–
35-60
One of the drawbacks of using flaky sand particles in concrete production is that it can result in coarse and spongy concrete. On the other hand, using cubic artificial sand can help reduce the porosity by 5% to 6%. This not only increases the packing area and saves storage space, but also enhances the strength of concrete and other building materials.
In the past, construction sand was sourced from natural sand found in rivers. However, due to excessive exploitation of natural sand and the growing demand for construction sand driven by infrastructure development, there are restrictions in using natural sand as a sustainable resource.
As a result, artificial sand produced by sand making equipment has become a viable substitute for natural sand. It has high adhesion and compressive resistance properties, making it suitable for various construction applications.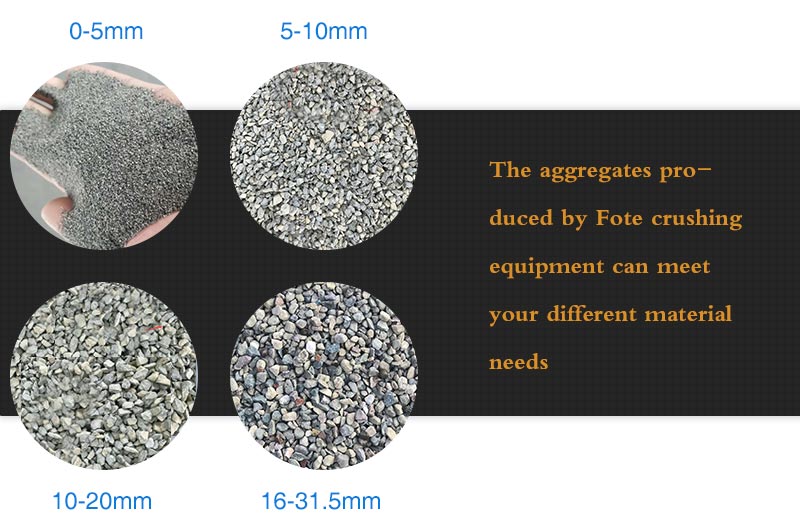 Different size of aggregates
Zoneding Machine offers three types of sand making machines for sale: HVI sand making machine, VSI sand making machine, and vertical shaft impact sand making machine. These machines have several applications in various industrial fields.
The sand making machine is known for its high efficiency, large capacity, and reliable operation, making it a valuable tool in the era of energy-saving and environmental consciousness. Its applications include but are not limited to:
Construction Industry: The sand making machine is widely used in the construction industry to produce high-quality aggregates for concrete production, road construction, and building materials.
Mining Industry: The machine is used in the mining industry to produce artificial sand for use in the production of construction materials, such as concrete, asphalt, and road base.
Manufacturing Industry: The sand making machine is used in the manufacturing industry for the production of artificial sand used in the manufacturing of glass, ceramics, and other industrial products.
Water Conservancy and Hydropower: The machine plays a crucial role in the water conservancy and hydropower industry by producing sand for the construction of dams, reservoirs, and other water infrastructure projects.
Metallurgical Industry: Sand produced by the machine can be used in the metallurgical industry for the production of iron, steel, and other metal alloys.
These are just a few examples of the applications of sand making machines. The versatility and reliability of these machines make them essential equipment in various industrial sectors.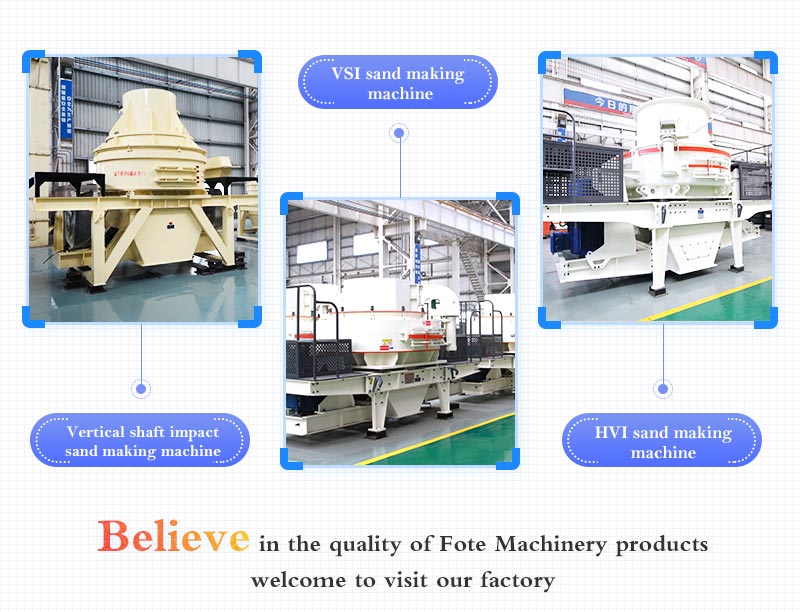 Zoneding Machine offers three models of sand making machines, namely the HVI sand making machine, VSI sand making machine, and vertical shaft impact sand making machine. These machines are capable of efficiently processing a wide range of materials, including soft materials such as limestone, talc, gypsum, and kaolin, as well as hard ores like granite, river pebbles, basalt, and quartz. Additionally, they can also handle construction waste and other similar materials. Their versatility makes them suitable for various applications in different industries.
The main application fields of the sand making machine include:
Building Construction and Road Construction: The sand making machine produces artificial sand, which serves as an important raw material for concrete production in these sectors.
Construction Waste Recycling: The mobile sand making machine can be easily converted to efficiently crush and produce sand from construction waste at different locations, promoting sustainable waste management practices.
Metallurgy and Chemical Industries: The sand making machine is utilized for the initial stage of fine crushing of various raw materials in these fields, improving the overall utilization efficiency in the production process.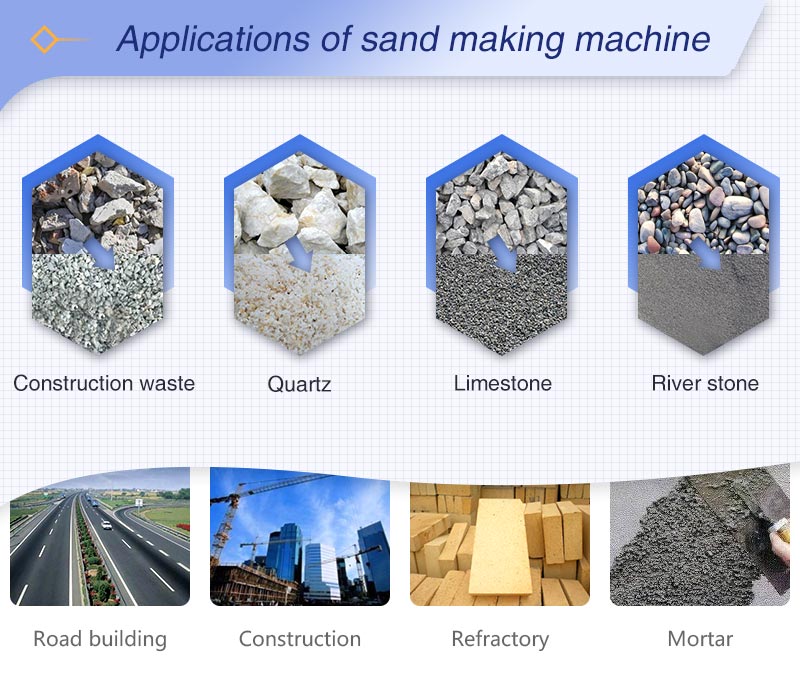 Applications of sand making machine
The working principle of a sand making machine, such as the VSI sand making machine, involves a process that utilizes impaction and friction to process materials. Here's a brief explanation of the working principle:
Stone to Stone Crushing: In this process, materials are fed into the sand making machine and collide with other materials. The kinetic energy generated by the collision between materials helps in crushing them into smaller particles.
Stone to Iron Crushing: In addition to the stone to stone crushing, the VSI sand making machine also utilizes iron materials (such as anvils) to crush the input materials. These iron materials provide additional impact and further facilitate the crushing process.
The VSI sand making machine utilizes selective crushing and cleavage crushing techniques to apply kinetic energy directly to the materials. This kinetic energy is then converted into crushing energy through the impact, resulting in the desired reduction in particle size.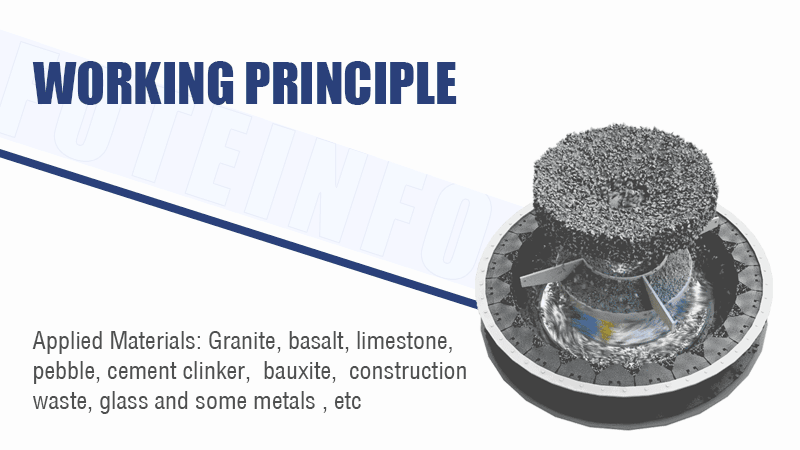 Sand making machine working principle
The sand making process using the VSI sand making machine involves the following steps:
Material Entry: The material enters the high-speed rotating wheel of the sand making machine through the central feeding hole. The material is then thrown out with a high acceleration, experiencing a force several times that of gravity.
Collision and Impact: The thrown material collides with the material that bounces off the counterattack plate and hits the material lining and counterattack plate together. These repeated collisions and impacts help in breaking down the material.
Crushing and Grinding: The material undergoes multiple collisions, impacts, friction, and grinding within the crushing chamber. This process further reduces the size of the material and enhances its shape. The energy generated from these interactions is converted into crushing energy.
Discharge: After going through the crushing chamber, the material is discharged from the sand making machine through the discharge port. The finished product obtained has a good shape with low material consumption due to the optimal impact angle and controlled crushing process.
By following these steps, the sand making machine completes the entire sand making process, producing high-quality sand for various applications.
Zoneding's sand making machines have gained popularity in the international market, receiving warm reception in countries such as Zambia, Indonesia, and Colombia. These machines have been able to provide effective and satisfactory sand solutions for a wide range of customers, meeting their specific needs and requirements. The success of Zoneding's sand making machines in these countries is a testament to their quality, reliability, and ability to deliver high-performance results.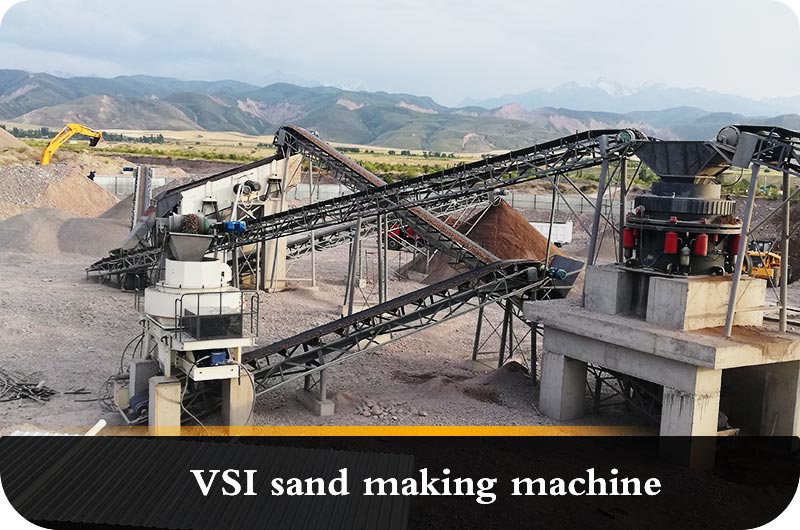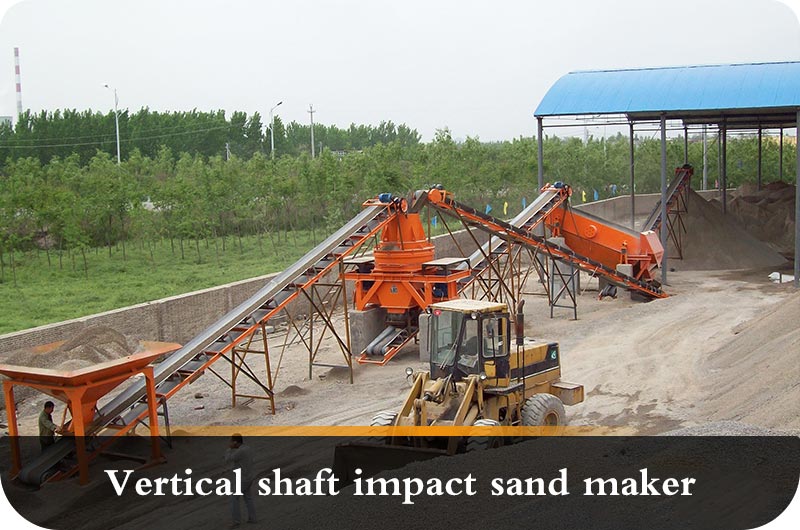 Working site of vertical shaft impact sand making machine
Zoneding Machine—Sand Making Machine Manufacturer
Zoneding Machine is a reputable manufacturer of sand making machines with 40 years of experience in research and development. Their skilled engineers continually acquire new knowledge and techniques to design and develop improved generations of sand making equipment. The combination of advanced technology and their own expertise has contributed to the success of Zoneding's sand making machines.
Zoneding Machine is committed to providing excellent service to its customers. They offer free professional consultation to help customers find the right sand production solution. Additionally, they guarantee prompt delivery within two weeks and provide on-site installation guidance for sand making plants. Zoneding Machine also prioritizes customer satisfaction by providing lifetime wearing parts and responsive after-sales support.
If you have any questions about sand making machines, you can consult with Zoneding's engineers online or leave your requirements on their message board.
Shipment of Zoneding sand making machine
General Specification
HVI Sand Making Machine
Model
Sand Shaping
Sand Making
Sand Shaping
Sand Making
Motor Power(kw)
Max.Feeding Size(mm)
Throughput(t/h)
HVI 0815
<30
<35
70-140
130-230
2×75
HVI 0818
<30
<35
80-190
165-283
2×90
HVI 0922
<35
<40
105-145
220-330
2×110
HVI 0926
<35
<40
120-190
240-380
2×132
HVI 1032
<40
<45
181-278
246-356
2×160
HVI 1040
<40
<45
262-284
350-440
2×200
HVI 1250
<45
<50
345-371
414-540
2×250
HVI 1263
<50
<55
453-498
521-585
2×315
VSI Sand Making Machine
Model
ZDMVSI-7611
ZDMVSI-8518
ZDMVSI-9526
ZDMVSI-1140
ZDMVSI-1145
ZDMVSI-1150
Capacity
(t/h)
Feed both
at center
and sides
120-180
200-260
300-380
450-520
500-610
520-650
Feed at
center
60-90
100-130
150-190
225-260
245-355
255-365
Max.feeding
size(mm)
Soft
material
35
40
45
50
50
50
Hard
material
30
35
40
40
45
45
Rotation
speed
(r/min)
1700-1890
1520-1690
1360-1510
1180-1310
1150-1300
1150-1300
Double Motor
power(kw)
4P 110
4P 180
4P 264
4P 400
4P 400
4P 500
Overall dimension
(L×W×H)(mm)
3700×2150×2100
4140×2280×2425
4560×2447×2778
5100×2700×3300
5500×2700×3300
5500×2700×3300
Power supply
380V 50HZ
Lubrication
station
Double
motor
power of
oil pump
2×0.31Kw
Safety
assuance
Double oil pumps assure enough oil supply:automatic
switch off with no oil stream or pressure,water cooling
in summer,motor heating stare-up in winter.
Overall
dimension
(L×W×H)
(mm)
820×520×1270
Power of oil
tank heater
2KW
Please note that the information mentioned above is subject to change due to advancements in technology. Zoneding Machine reserves the right to make changes without prior notice. The performance of the machines may vary depending on the application. For more detailed and up-to-date information, I would recommend chatting online with Zoneding engineers. They will be able to provide you with the most accurate and relevant information based on your specific requirements..