Ball Mill
Applied material: limestone, granite, cobble, dolomite, bluestone, iron ore, construction waste, glass, cement clinker, etc
Processing capacity:

1-1000t/h

Feeding size:

≤1200mm
The Description and Function of Ball Mill
The ball mill is an essential piece of equipment used for grinding various materials, such as cement, silicates, refractory material, fertilizer, and glass ceramics. It is also commonly used in ore dressing processes for both ferrous and non-ferrous metals. The ball mill can effectively grind ores and other materials, whether wet or dry, and is capable of handling hard materials like feldspar, quartz, iron ore, and gold ore.
Known for its versatility and wide range of applications, the ball mill is a popular choice for use in ore dressing and ceramics production. It has the ability to grind over 200 different materials, offering a flexible design, high throughput capacity, fine granularity, simple structure, easy maintenance, reliable performance, and long service life.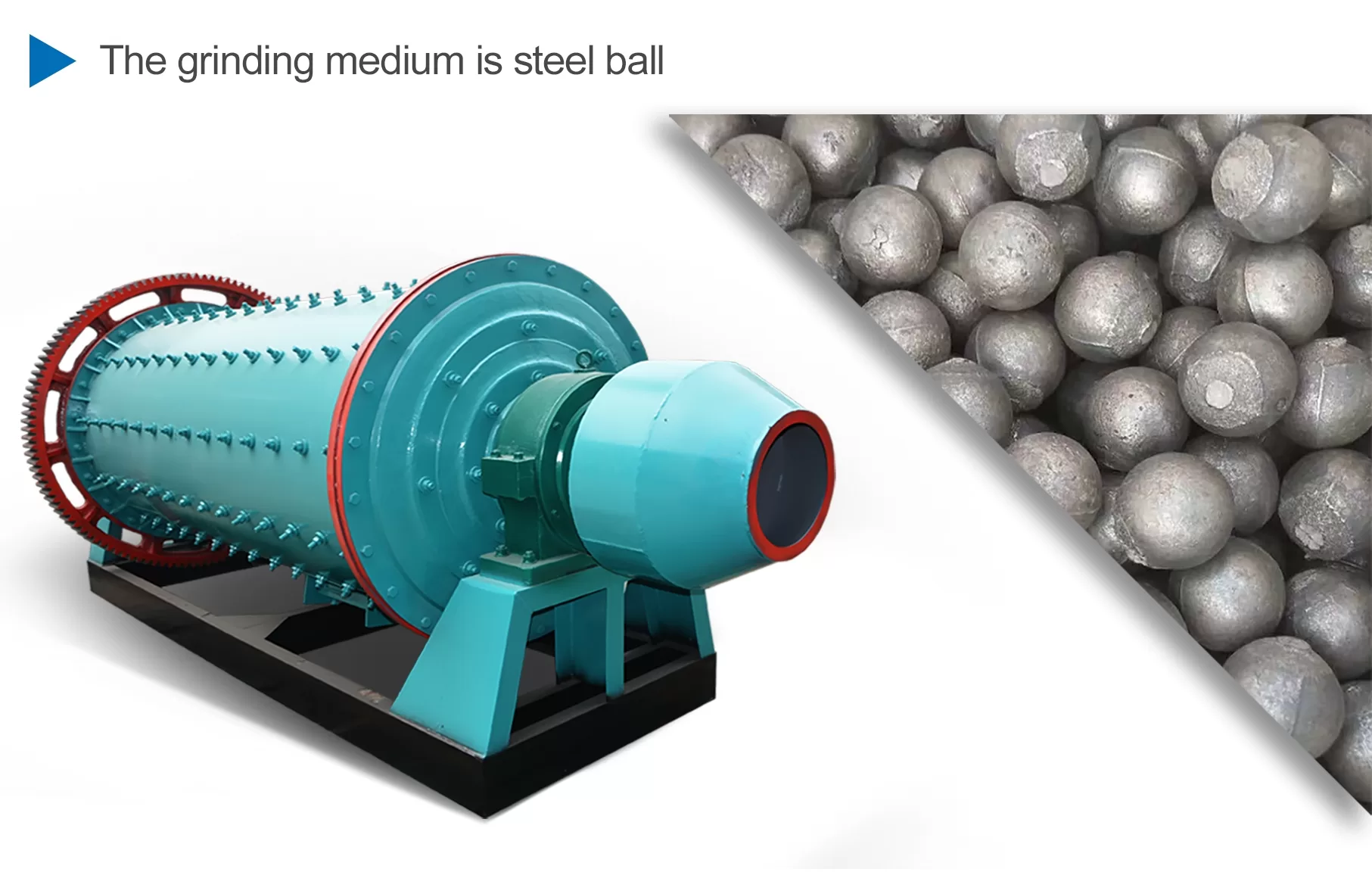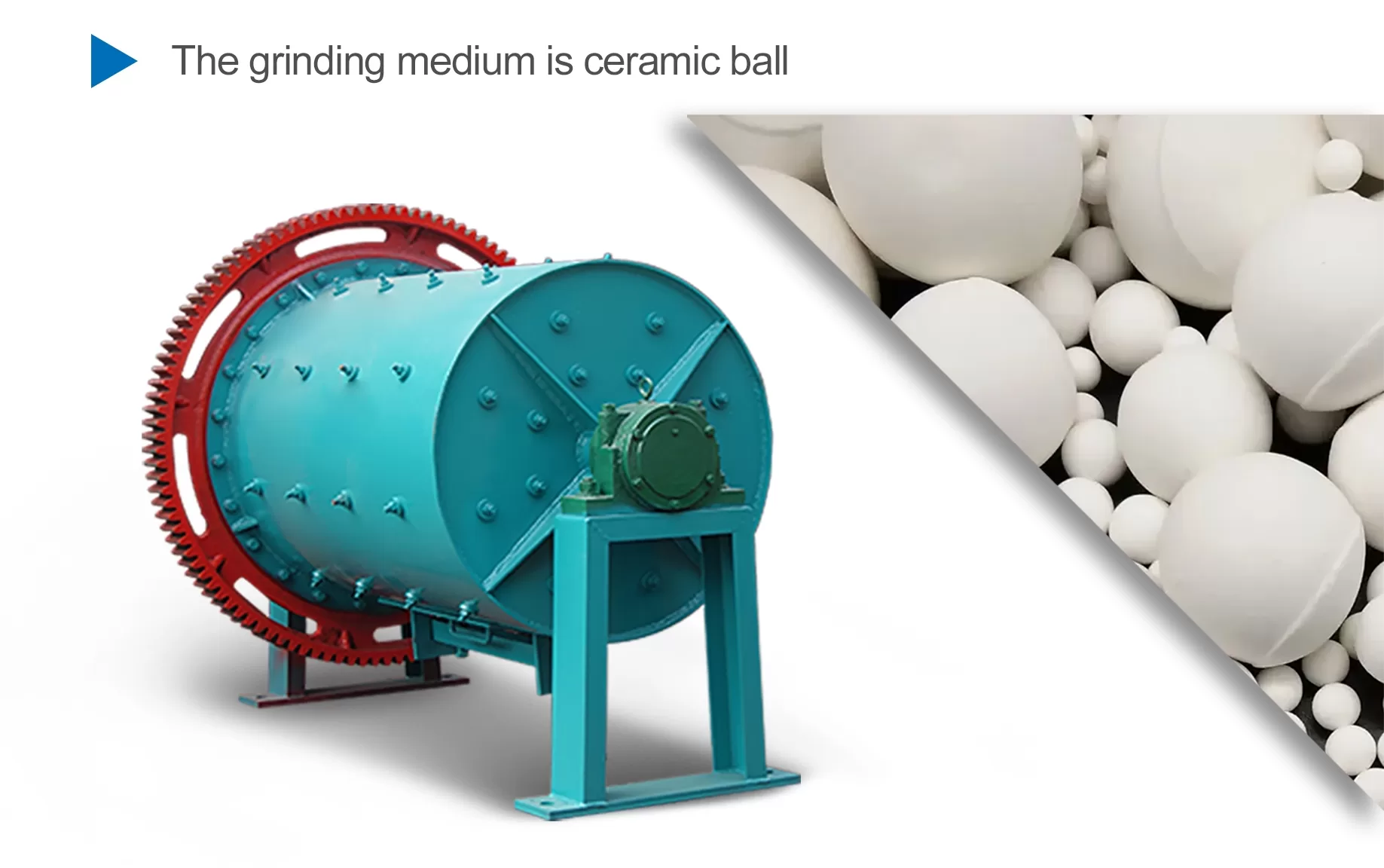 The ball mill is classified based on different aspects:
Working method:Dry grinding ball mill ,Wet grinding ball mill
Discharging methods:Grate discharge ball mill,Overflow discharge ball mill
When choosing between dry grinding and wet grinding, investors often face hesitation. Here are some tips:
Wet grinding is commonly used to grind raw materials, especially metallic and non-metallic ores that are not affected by water or where the reaction with water does not affect the quality of the finished product. Examples of materials suitable for wet grinding include copper ore, iron ore, gold ore, molybdenum ore, phosphate ore, feldspar ore, and fluorite ore.
On the other hand, materials like cement, marble, and other building aggregates that react to water and produce other materials typically only require dry grinding. If the finished product needs to be stored and sold as powder, dry grinding is also a better choice.
Ball mills can also be differentiated based on the materials they process.
Zoneding Machine, for instance, offers a variety of ball mills for sale that are specifically designed for different types of ores:
Gold ore ball mill,Black manganese ore ball mill,Nickel ore ball mill,Tin ore ball mill,Copper ore ball mill,Garnet ball mill,Andalusite ball mill,Aluminum gray ball mill,Molybdenum ore ball mill,Fluorite ball mill
These ball mills are tailored to process specific materials, allowing for efficient grinding and optimal performance.
Effects to the Discharge Particle Size of Ball Mill
The discharge particle size of a ball mill can be influenced by several factors. Here are the key factors that play a role in particle size adjustment:
Size of grinding media:
The size of the grinding media directly affects the particle size of the discharged material. Smaller grinding media results in smaller particles. It is common practice to use a combination of larger and smaller grinding media to achieve optimal grinding efficiency.
Lining board surface:
The lining board of the ball mill, which comes into direct contact with the raw material, also plays a crucial role in particle size adjustment. A flatter lining board tends to produce finer particles in the discharge.
Length of the grinding cylinder:
The length of the grinding cylinder, when the diameter is the same, can affect the grinding efficiency of the mill. A longer grinding cylinder provides a longer retention time for the material inside, resulting in different particle sizes of the discharged material.
These factors should be taken into consideration in order to achieve the desired particle size during the grinding process in a ball mill.
Selection of ball mill size
Here are some factors to consider when selecting the size of a ball mill:
Feed size: The size of the material entering the ball mill should be considered. If the feed material is large, a larger ball mill may be required to accommodate the size reduction process. Conversely, if the feed size is small, a smaller ball mill may be sufficient.
Desired product size: The target size of the final product is an important consideration. If a fine product is required, a smaller ball mill with finer grinding media can be chosen. For coarse grinding or a larger product size, a larger ball mill with coarser grinding media may be appropriate.
Mill capacity: The required capacity of the mill should be determined based on the production requirements. This includes the desired throughput or the amount of material to be processed within a specific time frame. A larger capacity mill may be needed for high-volume production.
Grinding media size: The size of the grinding media used in the ball mill is another factor to consider. A smaller media size will result in finer grinding, while a larger media size will result in coarser grinding.
Mill diameter and length: The dimensions of the ball mill, including its diameter and length, should be chosen based on the desired mill capacity and the available space for installation.
It is important to consult with experts or use specific calculations and simulations to determine the optimal ball mill size for a particular application. Factors such as the material properties, grinding characteristics, and process requirements should be taken into account to ensure the selection of a suitable ball mill size.

The technical benefits of a ball mill include:
Efficient grinding: A ball mill is designed to grind a wide range of materials into smaller particles. It can grind various types of ores and other grindable materials, both wet and dry. This allows for efficient grinding of different materials and reduces the energy consumption per ton of processed material.
Versatility: A ball mill can be used for both batch and continuous operation, making it suitable for various grinding applications. It can be used in industries such as mining, cement, ceramics, and more. The versatility of a ball mill allows it to handle a wide range of feed sizes and produce a uniform product size.
Controlled particle size distribution: With the use of grinding media such as steel balls or ceramic balls, a ball mill can achieve a controlled and narrow particle size distribution. This is important in many industries where a specific particle size is required for the end product.
Scalable operation: Ball mills can be designed and operated in different sizes, ranging from laboratory scale to large industrial sizes. This scalability allows for easy adjustment and optimization of the milling process based on the desired production capacity and product specifications.
Low maintenance: Ball mills are generally low maintenance equipment. They have few moving parts, which reduces the risk of mechanical failures. Additionally, the use of modern materials and technologies, such as improved bearing systems, reduces the need for regular maintenance and extends the service life of the equipment.
Cost-effective: Ball mills offer a cost-effective solution for grinding and milling. They have high grinding efficiency, which reduces the need for multiple stages of grinding, and they require less energy compared to other grinding mills. This leads to lower operating costs and overall cost savings.
These technical benefits make ball mills an important and widely used equipment in various industries for grinding and processing materials.
How does a Ball Mill Work?
The material is fed into the first chamber of the ball mill through the hollow shaft using a feeding device. Inside the chamber, there are steel balls of various sizes, and the chamber is lined with either stepped or corrugated lining.
As the grinding cylinder rotates, centrifugal force is generated, causing the steel balls to be lifted to a certain height and then fall, hitting and grinding the material.
The material undergoes coarse grinding in the first chamber and then enters the second chamber through a single-layer compartment board. The second chamber is equipped with a flat lining plate and steel balls, which further grind the material.
Finally, the finely ground powder is discharged from the ball mill through the discharge raft, completing the grinding process.
In summary, the ball mill uses rotating cylinders and steel balls to grind materials, with the grinding process occurring in multiple chambers. The size and type of steel balls, as well as the lining, can be adjusted to achieve the desired grinding results.
Ball Mill Suppliers
Zoeding Machine has been dedicated to research and development in mineral processing technology. With a specialized ball mill division, we produce a wide range of high-quality ball mills. Our experienced team of professionals is committed to delivering mature production concepts and innovative technical solutions.
As a leading ball mill manufacturer, Zoneding Machine offers competitive equipment prices and a satisfying purchasing experience. For a detailed quotation, feel free to chat with us online or reach out to us via email at zd-machine@kssb.cn. We are here to provide you with accurate and affordable ball mill options tailored to your needs.

General Specification
Model
Shell rotation speed
(r/min)
Ball load
(t)
Feeding size
(mm)
Discharging size
(mm)
Capacity
(t/h)
Motor power
(kw)
Total weight
(t)
Ф900×1800
36-38
1.5
<20
0.075-0.89
0.65-2
18.5
5.85
Ф900×3000
36
2.7
<20
0.075-0.89
1.1-3.5
22
6.98
Ф1200×2400
36
3
<25
0.075-0.6
1.5-4.8
30
13.6
Ф1200×3000
36
3.5
<25
0.074-0.4
1.6-5
37
14.3
Ф1200×4500
32.4
5
<25
0.074-0.4
1.6-5.8
55
15.6
Ф1500×3000
29.7
7.5
<25
0.074-0.4
2-5
75
19.5
Ф1500×4500
27
11
<25
0.074-0.4
3-6
110
22
Ф1500×5700
28
12
<25
0.074-0.4
3.5-6
130
25.8
Ф1830×3000
25.4
11
<25
0.074-0.4
4-10
130
34.5
Ф1830×4500
25.4
15
<25
0.074-0.4
4.5-12
155
38
Ф1830×6400
24.1
21
<25
0.074-0.4
6.5-15
210
43
Ф1830×7000
24.1
23
<25
0.074-0.4
7.5-17
245
43.8
Ф2100×3000
23.7
15
<25
0.074-0.4
6.5-36
155
45
Ф2100×4500
23.7
24
<25
0.074-0.4
8-43
245
56
Ф2100×7000
23.7
26
<25
0.074-0.4
12-48
280
59.5
Ф2200×4500
21.5
27
<25
0.074-0.4
9-45
280
54.5
Ф2200×6500
21.7
35
<25
0.074-0.4
14-26
380
61
Ф2200×7000
21.7
35
<25
0.074-0.4
15-28
380
62.5
Ф2200×7500
21.7
35
<25
0.074-0.4
15-30
380
64.8
Ф2400×3000
21
23
<25
0.074-0.4
7-50
245
58
Ф2400×4500
21
30
<25
0.074-0.4
8.5-60
320
72
Ф2700×4000
20.7
40
<25
0.074-0.4
22-80
380
95
Ф2700×4500
20.7
48
<25
0.074-0.4
26-90
480
102
Ф3200×4500
18
65
<25
0.074-0.4
As per process conditions
630
149
Ф3600×4500
17
90
<25
0.074-0.4
As per process conditions
850
169
Ф3600×6000
17
110
<25
0.074-0.4
As per process conditions
1250
198
Ф3600×8500
18
131
<25
0.074-0.4
45.8-256
1800
260
Ф4000×5000
16.9
121
<25
0.074-0.4
45-208
1500
230
Ф4000×6000
16.9
146
<25
0.074-0.4
65-248
1600
242
Ф4000×6700
16.9
149
<25
0.074-0.4
75-252
1800
249
Ф4500×6400
15.6
172
<25
0.074-0.4
84-306
2000
280
Ф5030×6400
14.4
216
<25
0.074-0.4
98-386
2500
320
Ф5030×8300
14.4
266
<25
0.074-0.4
118-500
3300
403
Ф5500×8500
13.8
338
<25
0.074-0.4
148-615
4500
525