Briquetting Plant
Applied Materials: various fines and powder of coal, coke, charcoal, carbon black, iron ore, mineral powder, metal dust, cast iron dust, mill scale, manganese ore, fluorite, gypsum, ferrosilicon, nickel alloy, blast furnace ash, etc.
Power:

7.5-30kw

Capacity:

4-18TPH
What is Briquetting Plant?
Due to the increasing cost of common fuels like coal and gas and the recently appeared need for new resources, more and more attention are paid to biomass fuels industry. Briquetting plant is the key part in the biomass fuel production line and other powdery materials storage and transportation.
Briquetting plant is also called briquette plant or briquette production line. It mainly contains the key machine briquetting machine and other equipment like dryer, batcher, biaxial mixer, compound crusher, etc. Compared with the single briquetting machine, the briquetting plant is prior in production capacity, automatization, briquetting efficiency and other fields.
Zoneding Briquetting Plant Video
Charcoal Briquetting Plant Flowchart
As mentioned, the whole briquetting plant is made with different equipment. Taking the charcoal briquetting plant in India as an example, here introduces the general briquetting plant flowchart.
Carbonized biomass materials are called charcoal. When crushed or broken into powder by compound crusher, charcoal is conveyed into the batcher, the biaxial mixer and the binder mixer to realize a full mixing of raw material and binder.
Next, a mixing mill is to stir and mill the mixed material to ensure the shaping technology of the mixture. Then, vibrating feeder is applied to feed the briquetting machine evenly and continuously to assure the briquetting efficiency. If needed, a belt dryer is used to dewater the finished products for more convenient storage and transportation.
Briquetting Plant Customer Site
Briquetting Plant Applications
Zoneding customizes a complete briquette production line according to customer's raw materials, discharge sized, production capacity, the work environment, etc. Besides, Zoneding offers solutions of different briquettes shape like oval shape, pillow shape, egg shape and so on.
In addition for convenient storage and transportation, briquetting plant is for calcination or burning.
Different Shapes of Briquettes in Briquetting Plant
Briquetting plant is usually used to press those solid and powdery materials that are not easy to be shaped like various metal ore powder, non-metallic mineral powder, steel slag and other particles such as clay, cryolite, kaolin, gypsum, etc.
Coal, charcoal, coke and other solid fuels briquettes in coal industry, blast furnace fuel industry, and power plant;
Metal powder like iron ore powder, copper ore powder, etc. in steel making plant and metallurgical industry;
Solid waste like iron oxide, steel slag, etc. in metal waste recycling industry;
Charcoal briquettes production in barbecue and home heating.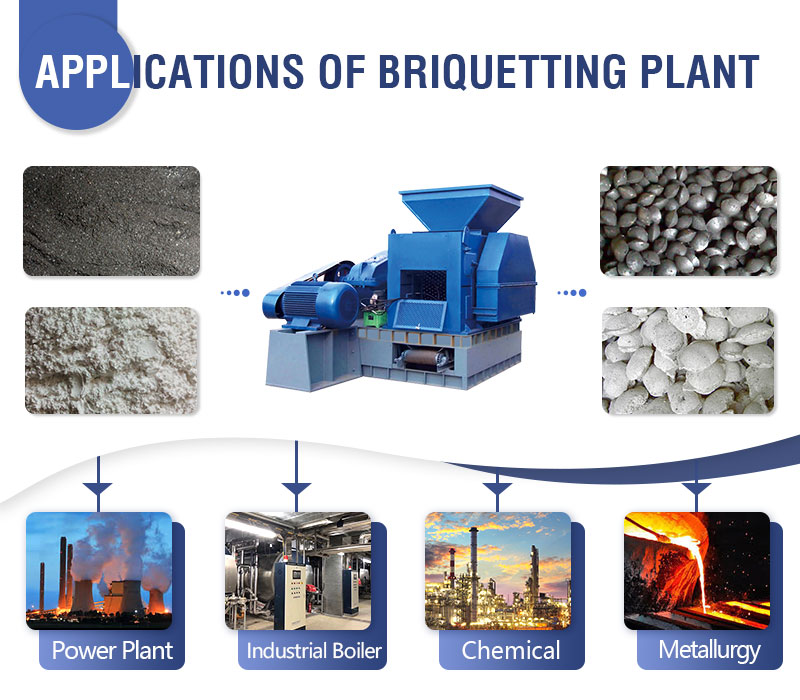 Briquetting Plant Applications
Based on different materials, Zoneding Machine supplies customized briquetting plant solutions including coal briquetting plant, charcoal briquetting plant, fluorite powder briquetting plant, mineral powder briquetting plant, dry powder briquetting plant, desulfurization gypsum briquetting plant, iron scrap and various metal ore powder briquetting plant, etc.
Introduction to Core Equipment of Briquetting Plant—Briquetting Machines
In the whole briquetting plant, the briquetting machine plays a core and crucial part. The following paragraph mainly describes the types of briquetting machines and their main usages:
Coal Briquetting Machine
Coal briquetting machine is mainly used in processing coal powder into balls. The materials can be directly put into the furnace for smelting, so as to increase the extra value.

Briquettes From Coal Briquetting Machine
Dry Powder Briquetting Machine
Dry powder briquetting machine is mainly used for pressing materials without water into bricks, such as lime powder, magnesium oxide powder, copper powder, chromium powder, zinc scrap, bauxite, non-ferrous metal powder, refractory material, ceramic material and so on. The powder material will be made into high capacity ball eggs through high pressure.

Briquettes From Dry Powder Briquetting Machine
Mineral Powder Briquette Machine
Mineral powder briquette machine is mainly used for ball making of non-ferrous and ferrous metal mineral powder, and the materials can be directly put into the furnace for smelting, so as to increase the added value. For example, dust, sludge, oxide skin, slag, iron powder, aluminum ash, silicon manganese ore, etc.

Briquettes From Mineral Powder Briquetting Machine
Desulfurization Gypsum Briquette Machine
Desulfurization gypsum briquette machine can press desulfurization gypsum powder into balls at one time, which has high yield and high ball forming rate. The equipment can press desulfurized gypsum powder into balls at one time without adding any adhesive, and the briquetting rate is above 90%.
The finished balls have strong hardness, which is not easy to be broken during transportation, and the finished product is used as cement retarder in cement plant to take place of natural gypsum.

Briquettes From Desulfurization Gypsum Briquette Machine
Strong Pressure Briquetting Machine
Strong pressure briquetting machine is mainly used for the cold pressing pellet of refractory material, coal powder, coal slime, middling coal, coke powder, coke coal and metallurgical powder materials.

Briquettes From Strong Pressure Briquetting Machine
Instructions for Using Briquetting Plant
Conveyor in the production line plays a transfer, transport role. The normal operation of the conveyor is very important. Remember to adjust the conveyor so that the equipment can run normally in the subsequent production. Do a good job of periodic maintenance of the conveyor.
Mixer is a kind of necessary equipment for mixing and homogenizing materials with the binder or other additives. Attention should be paid to the proportion of materials and additives in the use process. If water is added, the degree of wetness and dryness is appropriate after the hand can be grasped, which can be mastered by oneself in production.
Magnet must be installed before the briquetting plant belt machine to avoid damage to the ball press equipment.
Structures of Briquetting Plant
Customer Case
Last July, our Mongolian customer found Zoneding engineer on Facebook and sent an inquiry for fluorite powder briquette. Two solutions were sent to him 24 hours later according to his requirements including the capacity and discharge size.
According to his budget, he chose one of the customized solutions and paid a visit to Zoneding workshop half month later. Before his leaving, he signed the contract of a production line.
Here are the details of this fluorite powder briquetting plant.
Capacity: 50TPH
Feed size: about 2mm
Discharge size: 15mm
Ancillary equipment: batcher, biaxial mixer, binder mixer, mixing mill, vibrating feeder, etc.
Briquetting Palnt Solution
Why Choose Zoneding?
Advantages of Zoneding Products
1>The products produced by Zoneding Machine have strong durability and high production efficiency and are suitable for producing coal, coke, mineral powder, and refractory materials.
2>It has the advantages of high pressure, simple operation, convenient maintenance, and reliable operation.
3>The unique finished product and the double material conveying make the structure and application of the machine more practical.
Quality Service and Brand Power
Zoneding Machine has been committed to mineral processing technology research for more than 40 years, and its business units are specialized in the production of various types of briquette press machine. The briquette machine adopts mature production concept, and is equipped with a professional technical research and development team, to create high-quality briquette press equipment for you!
As a professional manufacturer, Zoneding Machine provides you with a more authentic, more preferential equipment quotation, and it is your best choice to purchase affordable briquetting plant, and the briquetting cost is low. If you want to know the detailed quotation of equipment, free online consultation at quote@sinoftm.com
Briquetting Machine Shipment
General Specification
Model
Roller Diameter
(mm)
Capacity(t/h)
Power(kw)
Reducer
ZDMQ290
290
1-2.5
5.5-7.5
350
ZDMQ360
360
3-5
7.5-11
350
Heavy ZDMQ360
360
3-5
7.5-11
400
ZDMQ430
430
5-8
15
400
Heavy ZDMQ430
430
5-8
15
500
ZDMQ500
500
8-11
30
650
ZDMQ650
650
10-15
37-45
750
ZDMQ750
750
20-25
45
750
ZDMQ850
850
20-28
55
850
ZDMQ1000
1000
25-35
90
1000
Note: Data may change for the improving technology; we reserve the right of changing without notice; Machine performance may vary depending on application; for more details, please chat online with Zoneding engineers.