Jaw Crusher
Applied Material: Pebble, calcite, granite, quartz, concrete, dolomite, bluestone, iron ore, limestone,
Feed Size:

125-1200mm

Capacity:

1-1000TPH
What is Jaw Crusher?
A jaw crusher is a primary crushing machine used in the stone crushing process. It operates by applying a compressive force on materials between two jaw plates, causing them to break and reducing them to a medium particle size. The jaw crusher is known for its simple structure, reliable performance, and easy maintenance. It is widely used in various industries to crush rocks with a compressive strength of less than 320MPa.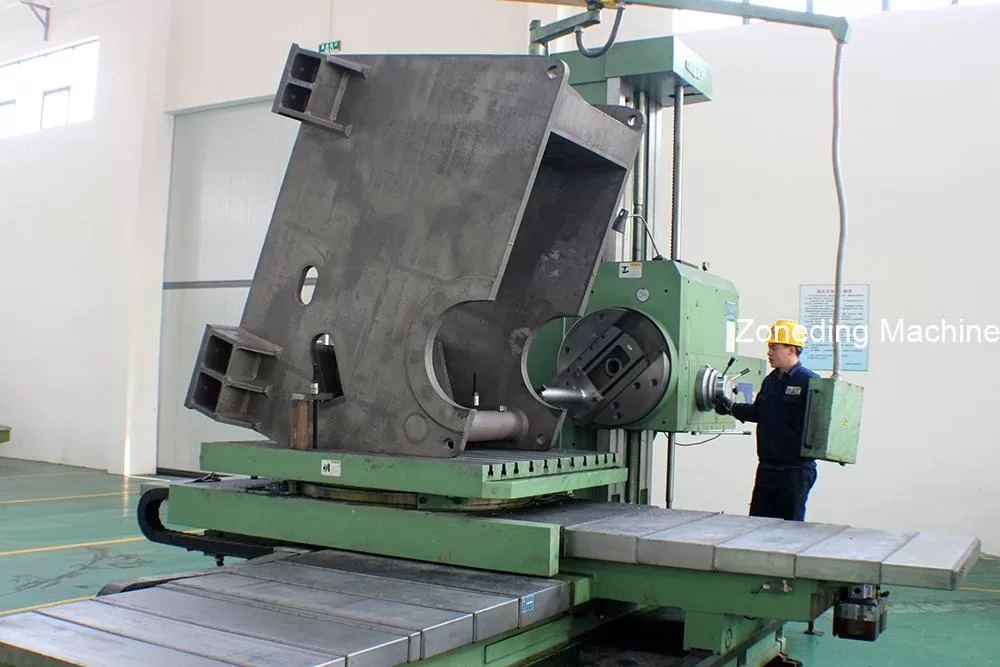 Jaw crusher in process
Zoneding jaw crusher is commonly used in combination with cone crusher, impact crusher, and sand maker to form the sandstone production line. There are two types of jaw crushers offered by Zoneding: PE series and PEX series. The PE jaw crusher is primarily used for coarse crushing, while the PEX jaw crusher is used for medium and fine crushing purposes.
Applications of Jaw Crusher
Jaw crusher is a versatile crushing machine that finds applications in various industries. Its primary functions include coarse crushing, medium crushing, and fine crushing. It can effectively reduce the size of more than 200 types of materials, including but not limited to pebble, calcite, granite, quartz, concrete, dolomite, bluestone, iron ore, limestone, coal gangue, construction waste, ferrosilicon, basalt, sandstone, cement clinker, etc.
Jaw crusher is widely used in industries such as metallurgy, mining, chemical, cement, construction, refractory materials, and ceramics. It is primarily used for medium and fine crushing of hard ores and rocks.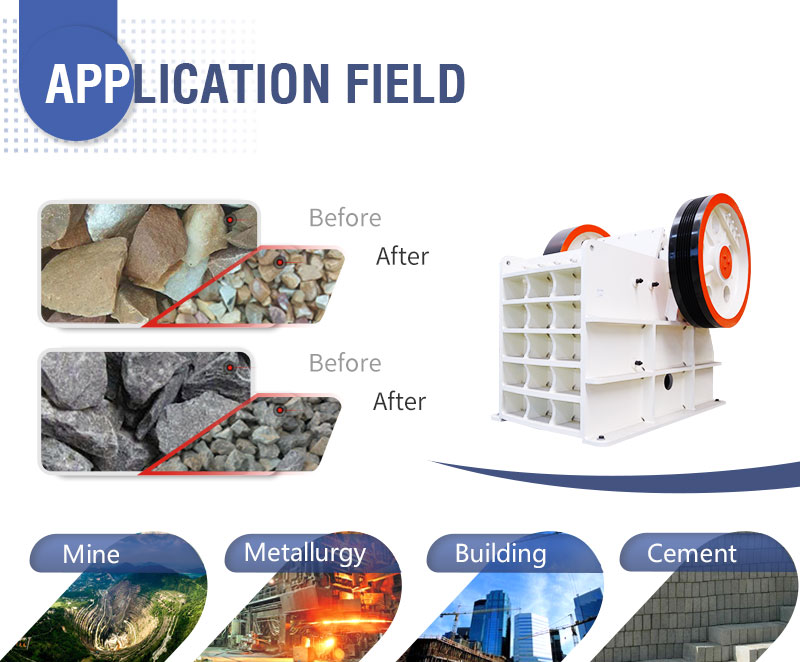 Working Principle of Jaw Crusher Machine
he working principle of a jaw crusher involves the motor driving the belt wheel, which causes the centrifugal shaft to rotate. The movement of the movable jaw blade suspension shaft is periodically towards and away from the fixed shaft, resulting in the crushing, grinding, and rubbing of the raw materials. As the crushed stones become smaller, they gradually fall down and are discharged from the jaw crusher once they meet the required particle size.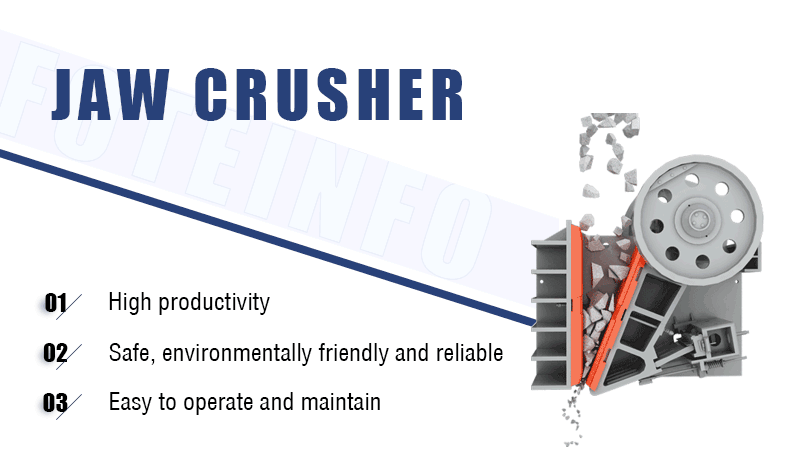 The advantages of a Zoneding jaw crusher machine include:
High crushing ratio: The jaw crusher has a deep crushing chamber and a large crushing ratio, which ensures efficient and effective crushing of materials.
Uniform product size: The adjustable outlet gap and removable jaw plate allow for control over the final product size, resulting in a uniform particle size distribution.
Simple structure and easy maintenance: The jaw crusher has a simple and compact structure, making it easy to operate and maintain. It is also equipped with a convenient clearance adjusting screw for quick and easy adjustment of the discharge outlet.
Strong and reliable performance: The use of high-quality materials and advanced manufacturing technology ensures the jaw crusher's durability and reliable performance.
Versatile applications: The jaw crusher is suitable for crushing a wide range of materials, making it ideal for various industries such as mining, metallurgy, construction, and more.
Overall, a Zoneding jaw crusher machine offers efficient crushing, reliable performance, and easy maintenance, making it a popular choice in the industry.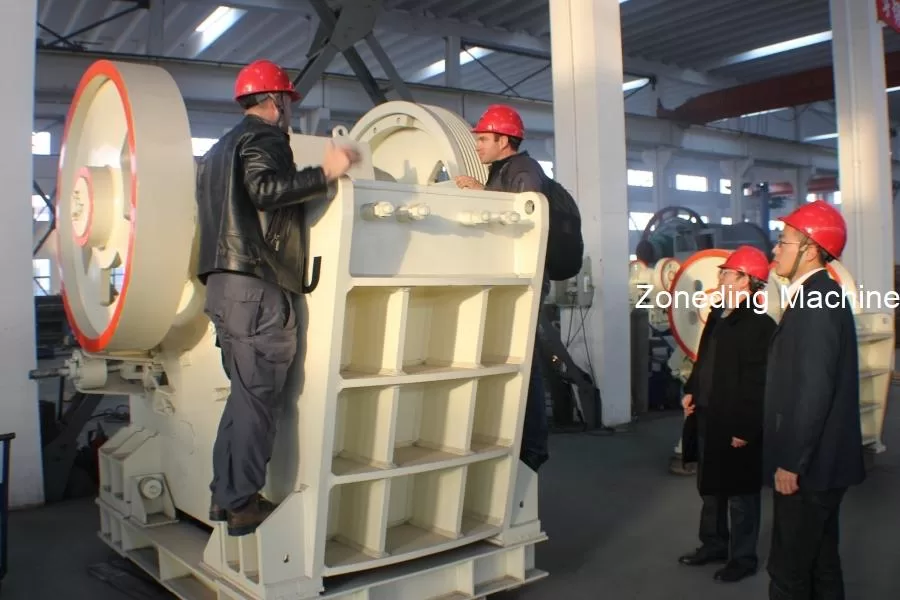 Clients in Ecuador in Zoneding Factory
A jaw crusher should be selected in the following situations:
Primary crushing: When you need to crush large materials into smaller ones, a jaw crusher is the preferable choice. Its large crushing capacity and high crushing ratio make it suitable for primary crushing tasks.
Medium crushing: In addition to primary crushing, a jaw crusher can also be used for medium crushing purposes. It can effectively handle materials with a wide range of hardness and sizes.
Versatile applications: A jaw crusher can be used in various industries such as mining, metallurgy, construction, and more. Its versatility allows it to handle different types of materials and applications.
Fine crushing alternative: Although the primary function of a jaw crusher is not fine crushing, it can still be used as an alternative to a fine crusher in some cases. However, it is important to note that an impact crusher or cone crusher is usually more suitable for fine crushing tasks.
Compared to impact crushers, jaw crushers have some differences in terms of working principles and applications. Jaw crushers use a simple or complex pendulum motion, while impact crushers use a rotating pendulum motion. Jaw crushers are typically used for primary and medium crushing, while impact crushers are more often used for fine crushing. Jaw crushers also have a regularly short interval of operation, whereas impact crushers can operate continuously without intervals.
In conclusion, a jaw crusher is a suitable choice for primary and medium crushing tasks, offering versatility, high crushing capacity, and a wide range of applications.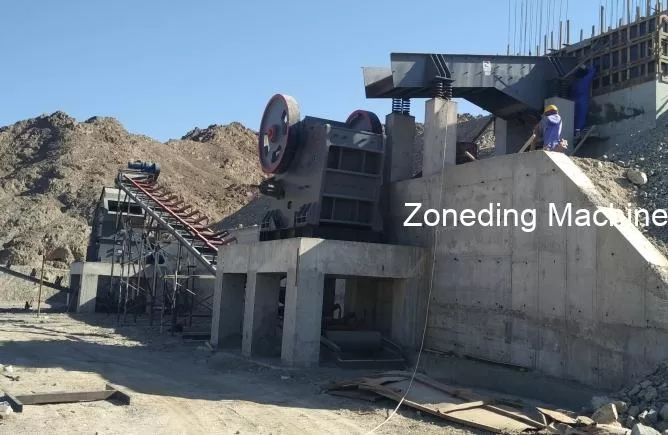 Jaw Crusher Site of use in Oman
General Specification
Model
Feed opening
(mm)
Max.feeding
size (mm)
Adjusting range
of discharge
opening (mm)
Processing capacity
(t/h)
Rotation speed of
eccentric shaft (r/min)
Motor power
(kw)
Total weight
(t)
Dimensions
(L×W×H)
(mm)
PE-150×250
150×250
125
10-40
1-3
250
4P 5.5
0.8
720×660×850
PE-200×300
200×300
180
15-50
2-6
260
4P 7.5
1.2
910×750×990
PE-200×350
200×350
180
18-70
3-10
260
4P 11
1.5
1000×870×990
PE-250×400
250×400
210
20-60
5-21
300
6P 15
2.8
1300×1090×1270
PE-400×600
400×600
340
40-100
16-64
275
6P 30
7
1730×1730×1630
PE-500×750
500×750
425
50-100
40-110
275
6P 55
12
1980×2080×1870
PE-600×750
600×750
500
150-200
80-240
275
6P 55
15.8
2070×2000×1920
PE-600×900
600×900
500
65-160
50-160
250
6P 55
17
2190×2206×2300
PE-750×1060
750×1060
630
80-140
110-320
250
8P 110
29
2660×2430×2800
PE-800×1060
800×1060
640
130-190
130-330
250
8P 110
29.8
2710×2430×2800
PE-830×1060
830×1060
650
160-220
150-336
250
8P 110
30.7
2740×2430×2800
PE-870×1060
870×1060
660
200-260
190-336
250
8P 110
31.5
2810×2430×2800
PE-900×1060
900×1060
685
230-290
230-390
250
8P 110
33
2870×2420×2940
PE-900×1200
900×1200
750
95-165
220-380
200
8P 110
52
3380×2870×3330
PE-1000×1200
1000×1200
850
195-265
315-500
200
8P 110
55
3480×2876×3330
PE-1200×1500
1200×1500
1020
150-350
400-800
180
6P 160-220
100.9
4200×3300×3500
PE-1500×1800
1500×1800
1200
220-350
500-1000
180
8P 280-355
139
5160×3660×4248
PEX-150×750
150×750
120
18-48
8-25
320
4P 15
3.8
1200×1530×1060
PEX-250×750
250×750
210
25-60
13-35
330
6P 22
5.5
1380×1750×1540
PEX-250×1000
250×1000
210
25-60
16-52
330
6P 30
7
1560×1950×1390
PEX-250×1200
250×1200
210
25-60
20-61
330
6P 37
9.7
2140×1660×1500
PEX-300×1300
300×1300
250
20-90
16-105
300
6P 55
15.6
2720×1950×1600
Please note that the information provided above is based on general knowledge and may vary depending on the specific technology and advancements in the industry. Manufacturers, such as Zoneding, reserve the right to make changes to their machines and specifications without prior notice. Machine performance can also vary depending on the specific application and conditions. For more detailed and up-to-date information, it is recommended to consult directly with Zoneding engineers through their online chat support or contact their customer service.