Compound Crusher
Applied Material: Coal, limestone, granite, cobble, dolomite, bluestone, iron ore, coal gangue, activated carbon, quartz, basalt, slag, etc.
Feed Size:

50-100mm

Capacity:

5-100TPH
What is Compound Crusher?
The Compound Crusher, also known as a vertical crusher, is a type of small rock crusher that is suitable for crushing limestone, clinker, coal, and other minerals in the building materials industry, mining, metallurgy, and chemical industry. It is developed from Zoneding Machinery's PEL series vertical compound crusher, which adheres to national mechanical industry standards.
The Compound Crusher adopts international advanced technology and offers several unique features:
Large Production Capacity: The Compound Crusher has a capacity for large production, allowing for efficient and effective crushing of materials.
Big Crushing Ratio: It exhibits a high crushing ratio, ensuring that materials can be finely crushed and processed.
Low Energy Consumption: The Compound Crusher is designed to consume low energy during operations, making it energy-efficient and cost-effective.
Good Sealing Effect: It is equipped with a sealing structure that effectively prevents dust and other impurities from entering the crushing chamber, ensuring a clean and safe operating environment.
Stable Operation: The Compound Crusher offers stable and reliable performance, ensuring smooth operations and minimizing downtime.
Easy Maintenance: It is designed for easy maintenance, allowing for convenient cleaning, inspection, and repair of components.
In summary, the Compound Crusher is a reliable and efficient crushing machine that offers a large production capacity, high crushing ratio, low energy consumption, good sealing effect, stable operation, and easy maintenance. It serves as a valuable tool in various industries for crushing different types of materials.
Compound Crusher has a wide range of applications and is commonly used for crushing medium-hard materials in middle or small-sized plants. Here are some specific applications:
Cement Plants: Compound Crusher is suitable for fine crushing raw materials and clinker in cement plants, helping to achieve the desired particle size for further processing.
Construction and Artificial Sand Making: It is used for crushing materials such as limestone, granite, dolomite, basalt, and others to produce artificial sand in construction projects.
Mineral Processing: Compound Crusher is employed for crushing various minerals and ores, such as bauxite, lead-zinc, serpentine, blast furnace slag, coal gangue, phosphate ore, and more. It is commonly used in the building material, coal industry, chemical industry, and other sectors.
Overall, Compound Crusher is a versatile crushing machine suitable for multiple industries and a variety of materials. It effectively helps in the processing of medium-hard materials and plays a significant role in various applications.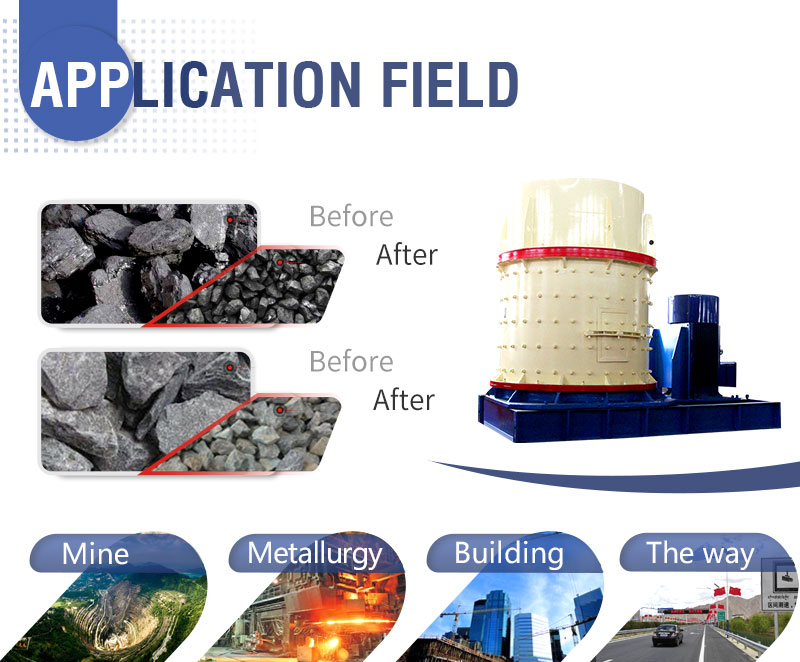 Application of Compound Crusher
Compound Crusher offers several advantages, which include:
Versatility: Compound Crusher is capable of crushing a wide range of materials, including medium-hard ones. It can be used for various applications in different industries such as cement, construction, and mining.
High Crushing Efficiency: With its unique crushing mechanism and design, Compound Crusher provides efficient and effective crushing of materials, resulting in high productivity and improved overall process efficiency.
Adjustable Discharge Size: The compound crusher allows for the adjustment of the discharge size according to the specific requirements of the application. This flexibility enables the production of different-sized materials for various purposes.
Low Energy Consumption: Compound Crusher is designed with energy efficiency in mind. It consumes less energy during operation, helping to reduce energy costs and environmental impact.
Simple Structure and Easy Maintenance: Compound Crusher has a simple and compact structure, making it easy to operate and maintain. It requires minimal maintenance, leading to convenient and cost-effective machine upkeep.
Good Sealing Performance: The sealing structure of Compound Crusher effectively prevents dust and other pollutants from entering the crushing chamber, ensuring a clean and safe working environment.
In summary, Compound Crusher offers versatility, high crushing efficiency, adjustable discharge size, low energy consumption, simple structure, easy maintenance, and good sealing performance. These advantages make it a reliable and popular choice for crushing medium-hard materials in various industries.
The working principle of Compound Crusher can be summarized as follows:
High-speed Rotation: The Compound Crusher has high-speed rotating vanes. When materials are fed into the machine, they fall into the rotating vanes from the upper inlet.
Impact and Crushing: As the materials fall into the rotating vanes, they collide and are broken by the other umbrella-shaped materials that are already in motion. This collision and impact at high speed cause the materials to be polished and crushed between the vanes and the cabinet of the crusher.
Repeated Crushing: The materials continue to experience impaction, bounce, and crushing as they undergo a repeated closed-circuit process inside the crusher. This repeated action helps to further reduce the size and refine the particles.
Discharging: The crushed materials are discharged from the machine through the outlet located beneath the crusher. The size of the discharged particles can be controlled using screening equipment to ensure that only qualified-sized particles are released.
In summary, the Compound Crusher works by subjecting the materials to high-speed collision, impact, and crushing between the rotating vanes and the cabinet. The repeated crushing action within a closed circuit helps to refine and reduce the size of the materials. The discharged particles are controlled for size using screening equipment.
Compound Crusher in Workshop
As a reputable manufacturer of compound crushers, Zoneding Machinery (ZDM) offers an exceptional product that excels in performance during the production process. Our skilled engineers at ZDM are available to provide free consultation services, including information on compound crusher pricing, assistance in selecting the appropriate machine for your needs, and guidance in creating a flow chart for your specific application. We are dedicated to ensuring that you receive the best equipment and solutions to meet your requirements.
Compound Crusher Ready for Shipment
General Specification
| | | |
| --- | --- | --- |
| Specification | Processing Capacity(t/h) | Motor Power(kw) |
| 800 | 5-15 | 4p 30kw |
| 1000 | 10-30 | 4p 55kw |
| 1250 | 20-60 | 6p 90kw |
| 1500 | 30-80 | 8p 110kw |
| 1750 | 40-100 | 8p 160kw |
Please note that the data provided for the compound crusher, such as performance and specifications, may be subject to change as technology improves. We reserve the right to make changes without prior notice. It's important to understand that the actual performance of the machine may vary depending on the specific application. To obtain more detailed and up-to-date information, we recommend chatting online with Zoneding engineers who can provide you with the most accurate and relevant information based on your specific requirements.