Fine Crusher
Applied Material: Granite, basalt, limestone, pebble, cement clinker, quartz sand, iron ore, bauxite, construction waste, glass and some metal, etc.
Feed Size:

≤190mm

Capacity:

10-310TPH
What is Fine Crusher?
Zoneding fine crusher, also referred to as a tertiary crusher, combines the working principles of impact crusher and hammer crusher to achieve higher efficiency and lower energy consumption compared to traditional fine crushers. It is commonly used for medium and fine crushing of brittle materials with lower hardness, such as pebble, cement clinker, quartz, etc., in industries like refractory and metallurgy. Zoneding's fine crusher is known for its simplified structure and high efficiency.
Applications of ZDM Fine Crusher
Fine crusher is also known as tertiary crusher, which is widely used for the fine crushing or sand making of granite, basalt, limestone, pebble, cement clinker, iron ore, bauxite, and other minerals. This crusher machine is suitable for high-quality sand and stone production. For example, it can be used as fine aggregate crusher equipment in highway and railway, quartz sand or silica sand making machine in the construction industry, cement industry, refractory industry, metallurgy industry, etc.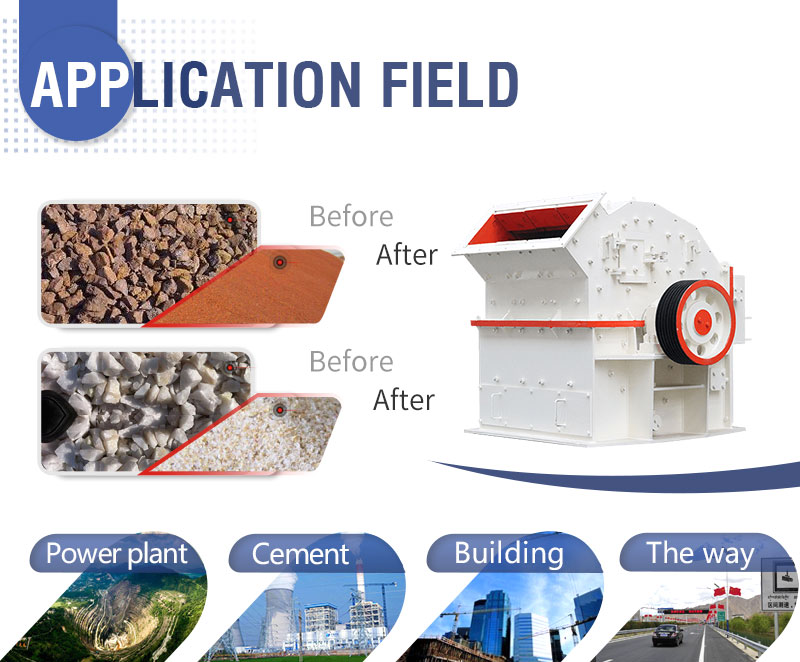 Application of Fine Crusher
The fine crusher has several advantages:
Efficient sand-making capability: The fine crusher is specifically designed to produce high-quality artificial sand. It has the ability to finely crush and shape the materials to meet the desired specifications for sand production.
Versatility: The fine crusher can be used for a wide range of materials including granite, basalt, limestone, pebble, cement clinker, and more. This makes it suitable for various applications in different industries.
Energy-saving and environmental friendly: The fine crusher is designed with advanced technology and optimized structure, which reduces energy consumption and minimizes environmental impact.
Easy maintenance: The fine crusher is designed with a simple and reliable structure, making it easy to maintain and operate. This helps to reduce downtime and ensure smooth operation.
High output and excellent particle shape: The fine crusher is capable of producing high-quality artificial sand with a uniform particle shape. This results in a better overall performance and improved aesthetics in the final product.
Overall, the fine crusher offers significant advantages in terms of its sand-making capability, versatility, energy efficiency, ease of maintenance,
The fine crusher offers direct control over the output size through the use of grates inside the machine. This allows for precise adjustment of the final product size, making it a suitable replacement for traditional sand making machines in certain production lines.
The fine crusher is equipped with split-type hammers that are fixed on the rollers. These hammers are wear-resistant and easy to replace, ensuring the longevity and efficiency of the machine.
To enhance the crushing ratio and achieve the desired output size, the fine crusher employs a stage crushing process. This helps to improve the overall performance of the machine, providing stable and reliable results.
In terms of cost-effectiveness, the fine crusher offers significant advantages. The investment and long-run maintenance costs of the fine crusher are 35-50% lower compared to traditional processes of equal scale. Additionally, the fine crusher improves output efficiency by 35-50%.
Overall, the fine crusher provides direct control over the output size, includes wear-resistant hammers, utilizes a stage crushing process for improved performance, and offers cost-effective benefits with lower investment and maintenance costs compared to traditional processes.

Comparison of Materials before Crushing and After Crushing by Tertiary Crusher
Working Principle of Fine Crusher
The working principle of the fine crusher is based on the same principle as an impact crusher. It consists of a motor, driving system, and the main engine. When the fine crusher is in operation, the rollers rotate at a high speed due to the motor.
The fine crushing machine utilizes a stage crushing process. The materials are fed into the first crushing chamber and are crushed by the hammers on the rollers. As a result, they are impacted against the chamber wall.
After the initial crushing, the materials that have been crushed in the first chamber fall into the second fine crushing chamber. Here, they undergo further crushing to produce particles that meet the desired specifications.
Once the crushing process is complete, the crushed materials are expelled or belched out of the machine.
In summary, the fine crusher operates by rotating the rollers at high speed to crush the materials in two stages, providing a final product that meets the desired specifications.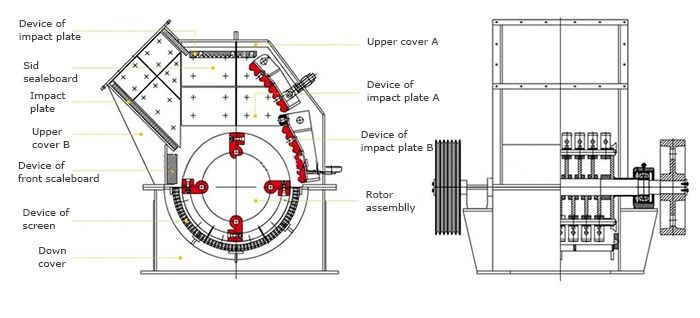 Zoneding Fine Crusher offers several reasons why it is a satisfactory choice:
Established Expertise: With a history dating back to June 20th, 1986, Zoneding Machinery (ZDM) has extensive experience and has witnessed the development of mining machines in China. This expertise ensures that ZDM understands the needs and requirements of their customers.
Research and Development: ZDM has established three R&D branches, demonstrating their commitment to innovation and continuous improvement. This focus on research and development allows ZDM to stay updated with the latest technologies and incorporate them into their products.
Advanced Technology: ZDM has introduced advanced technology from countries like Germany, America, Japan, and Australia. By leveraging and incorporating these technologies, ZDM ensures that their products are equipped with the latest advancements in the industry.
High-Quality Products: Zoneding is dedicated to supplying products of high quality. Through stringent quality control processes and adherence to industry standards, ZDM ensures that their fine crusher and other products meet or exceed customer expectations.
Good Service: Zoneding also emphasizes providing good service to its customers. This includes assisting customers with product selection, installation, and addressing any after-sales issues or queries. ZDM aims to ensure a smooth and satisfactory experience for their customers.
Competitive Pricing: ZDM works hard to offer products at the lowest cost without compromising on quality. This commitment to competitive pricing makes Zoneding Fine Crusher an attractive option for customers.
In summary, Zoneding Fine Crusher stands out due to its established expertise, focus on research and development, utilization of advanced technology, commitment to high-quality products, good service, and competitive pricing.
Fine Crusher in Factory
General Specification
PXJ tertiary impact crusher
Rotorø×Width
(mm)
Specification
800×400
800×600
800×800
1010×1010
1200
×1200
1400
×1400
1600
×1600
1800
×1800
Feed opening size(mm)
400×185
500×250
550×300
1000×350
1200
×450
1500
×500
1600
×550
1800
×800
Feeding size (mm)
<120
<180
<180
<180
<180
<190
<190
<190
Discharging size (mm)
0-10
0-10
0-10
0-10
0-10
0-10
0-10
0-10
Adjustable range of discharge opening (mm)
5-50
5-50
5-50
5-50
5-50
5-50
5-50
5-50
Cement Clinker(t/h)
10-30
1040
20-45
25-55
35-90
50-150
85-210
125-270
Limestone(t/h)
18-45
23-55
28-65
35-75
45-110
50-150
95-260
140-310
Power(kw)
4P 37KW
4P 45KW
4P 45KW
4P 55KW
6P 110KW
6P 160KW
4P 250KW
4P 315KW
Theoretical weight
3.9
4.5
6
10.5
14.4
22
35
49.7
Please note that the information provided above about Zoneding Fine Crusher is based on the data available at the time of this response. Zoneding Machinery (ZDM) reserves the right to make changes without prior notice as technology continues to improve.
It is important to consider that the performance of the fine crusher may vary depending on the specific application and operating conditions. For more detailed and up-to-date information, it is recommended to chat online with Zoneding engineers. They can provide you with specific details tailored to your requirements and offer guidance based on your specific needs.