Impact Crusher
Applied Material: Limestone, coal gangue, granite, bluestone, construction waste, cobble, pebble, basalt, iron ore, quartz, calcite, concrete, cement clinker and some metal, etc.
Feed Size:

300-1300mm

Capacity:

30-2000TPH
What is Impact Crusher?
An impact crusher is a type of stone crusher that is commonly used for crushing materials such as granite, limestone, concrete, and more. It utilizes advanced international technology and incorporates lessons learned from previous working experiences. The impact crusher machine is designed to handle materials with a maximum side length of less than 500mm and a compressive strength of less than 350MPa. It is capable of producing adjustable discharge particle sizes. Zoneding Machine offers various specifications of impact crushers to cater to different crushing needs.
Impact Crusher
Applications of Impact Crusher
Impact crushers, such as the CI series and HX series models from Zoneding Machine, have a wide range of applications. The CI series impact crusher is suitable for first, second, and third stage crushing, making it suitable for coarse, medium, and fine crushing applications. The HX series impact crusher, on the other hand, is primarily used for coarse and fine crushing in the first and second stages.
Zoneding impact crushers are commonly used in various industries and applications. They are widely utilized for crushing materials such as pebble, limestone, granite, quartz, concrete, basalt, and other minerals. These crushers are frequently used in the production of artificial aggregates and the crushing of ores in industries such as railway, highway, and construction.
Impact Crusher Working Principle
The working principle of an impact crusher involves the use of impact force to break materials, typically those of medium hardness. When the impact crusher is in operation, the rotors rotate at a high speed, powered by a motor. The materials receive a significant amount of energy from the hammers on the rotors and are initially crushed. Subsequently, they are propelled towards the impact plates for a second round of crushing. Finally, the materials rebound off the hammers and undergo a third impact, completing the crushing process.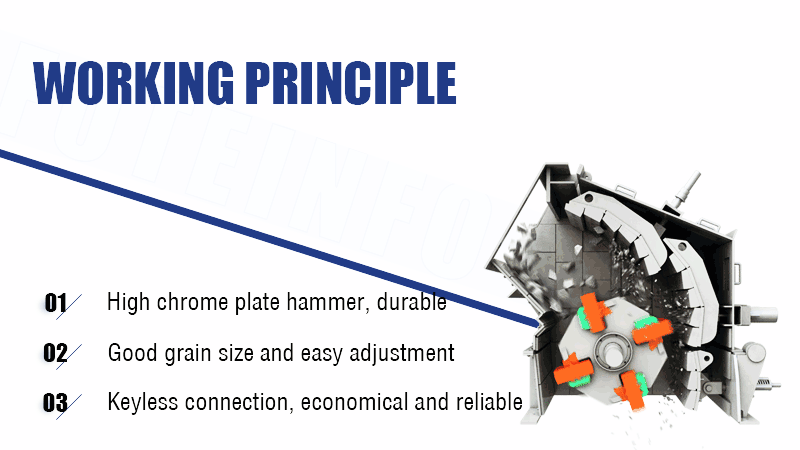 Working Principle of Impact Crusher
Structural Advantages of ZDM Impact Crusher
The ZDM impact crusher features a robust and efficient structure, primarily comprised of impact plates, rotators, hammers, adjustment devices, and other essential components. Through structural enhancements and adjustments, the ZDM impact crusher offers improved functionality and performance. These improvements enable the crusher to effectively handle various materials and deliver optimal crushing results.
Better particle shape: The ZDM impact crusher allows for easy adjustment of the interval between the impact plate and hammers. This feature ensures efficient control over the shape of the discharged materials, resulting in a better particle shape.
Higher efficiency and larger capacity: The ZDM impact crusher is designed with a larger inlet and a higher and multi crushing cavity. This design improvement leads to higher efficiency and a larger processing capacity. Additionally, the impact force, combined with a high crushing ratio, contributes to enhanced processing efficiency.
Extended service life and investment-saving: The ZDM impact crusher incorporates high chromium hammerheads. This material improves the durability and lifespan of the impact crusher, reducing the need for frequent replacements and saving on investment costs.
Easy maintenance: The ZDM impact crusher is closely structured, and its rotators are connected keylessly. This design makes it convenient to perform regular checks on the various parts of the crusher, contributing to easy maintenance and ensuring optimal performance.
Impact Crusher VS Jaw Crusher
Here is a table comparing some specifications of jaw crushers and impact crushers:
| Specification | Jaw Crusher | Impact Crusher |
| --- | --- | --- |
| Inlet Opening Size | Multiple models with different sizes | Larger size |
| Working Principle | Compression | Impaction |
| Application | Primary crushing process | Secondary crushing process |
| Adaptability | Adaptable for different sizes of mines and plants | Less adaptable |
| Usage in Stone Crushing Plant | Usually used | Can be used in combination with vibrating screen and vibrating feeder |
| Usage in Sand Making Plant | Can be used in combination with sand making machine, sand washer, screen, and feeder | Not commonly used |
Jaw crushers are generally used in the primary crushing process, and they come in multiple models with different inlet opening sizes, making them adaptable for various sizes of mines and plants. On the other hand, impact crushers have a larger inlet opening size and work based on the principle of impaction. They are typically used in the secondary crushing process.
Both jaw crushers and impact crushers can be used in stone crushing plants, with the addition of vibrating screens and vibrating feeders. However, jaw crushers are more commonly used for this purpose. In sand making plants, jaw crushers can be used in combination with sand making machines, sand washers, screens, and feeders to produce high-quality sand. Impact crushers, on the other hand, are not commonly used in sand making plants.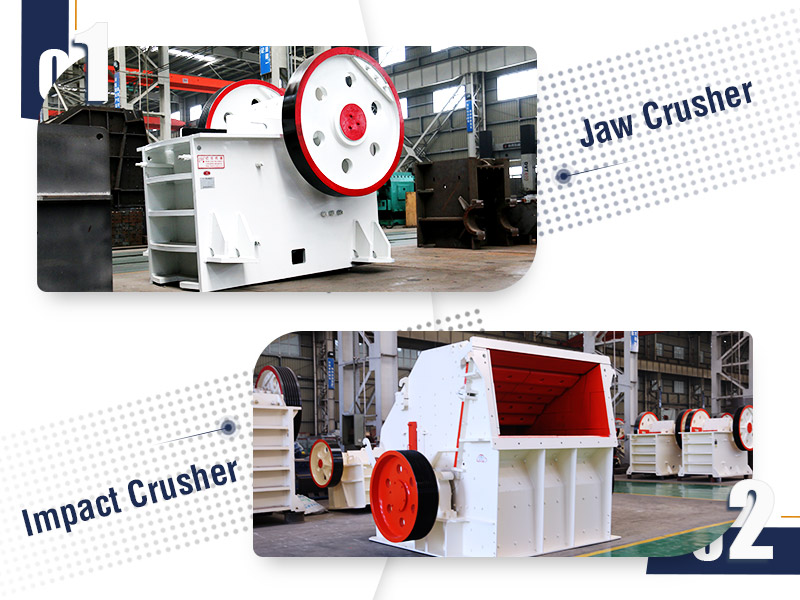 Impact Crusher VS Jaw Crusher
Zoneding Machine offers high-quality impact crushers for sale at competitive prices. They provide both fixed and mobile impact crushers, including tracked and wheel types. The choice between a fixed or mobile impact crusher depends on the mine environment. A fixed impact crusher generally has a lower cost but limited flexibility, whereas a mobile impact crusher offers more flexibility but may have a slightly higher cost. Zoneding Machine ensures that their impact crusher prices are favorable compared to other companies. For more detailed information about their products, it is suggested to contact Zoneding Machine directly.
General Specification
Model
Specification
(mm)
Feed
Opening
(mm)
The Maximum
Feeding Size
(mm)
Capacity
(t/h)
Power
(kw)
Overall
Dimension
(L×W×H)
(mm)
Total
Weight
(t)
PF-1007
Φ1000×700
400×730
300
30-70
4P 37-45
2330×1660×2300
12
PF-1010
Φ1000×1050
400×1080
350
50-90
4P 45-55
2370×1700×2390
15
PF-1210
Φ1250×1050
400×1080
350
70-130
6P 110
2680×2160×2800
17.7
PF-1214
Φ1250×1400
400×1430
350
80-180
6P 132
2650×2460×2800
22.4
PF-1315
Φ1320×1500
860×1520
500
100-280
6P 200
3180×2720×3120
27
PF-1320
Φ1300×2000
993×2000
500
140-380
6P 250
3220×3100×3120
34
PF-1520
Φ1500×2000
830×2040
700
200-550
4P 315-400
3959×3564×3330
50.6
PF-1820
Φ1800×2000
1260×2040
800
400-800
4P 630-710
4400×3866×4009
83.21
Please note that the pricing and specifications of impact crushers offered by Zoneding Machine may be subject to change due to advancing technology. Zoneding Machine reserves the right to make changes to their products without prior notice. Furthermore, the performance of the machine may vary depending on the specific application. For more detailed and up-to-date information, it is recommended to engage in an online chat with Zoneding engineers. They will be able to provide you with the most accurate and relevant details based on your specific requirements.