Slurry Briquetting Machine
Applied Materials: Iron oxide, sludge iron power, coking coal, refractory material, etc. in the coal industry, power plants, metallurgy industry, chemical industry, energy, transportation, heating, and other industries.
Motor Power:

7.5-45kw

Capacity:

3-50TPH
Introduction of Slurry Briquetting Machine
The slurry briquetting machine, also known as the coal slime briquetting machine, is used to press the slurry into balls or blocks. It is commonly used in the coal production process to transform the semi-solid coal and water mixture into a solid form. By doing so, the slurry can be directly utilized in furnaces for smelting, thus increasing its value.
The slurry briquetting machine operates by grouting the slurry with high pressure and features automatic feeding. This results in the formation of briquettes with high density and hardness. Apart from the slurry briquetting machine, there are several other types of briquetting machines available. These include the coal briquetting machine, desulfurization gypsum briquetting machine, and ore powder briquetting machine.
Please note that while the information provided describes the general purpose and function of the slurry briquetting machine, it is important to consult the manufacturer or further research for more detailed specifications and technical information.
Working Principle of Slurry Briquetting Machine
The slurry briquette machine is the key equipment of the slurry pressing technology, and its structure directly affects the quality of the size. The main type of press machine is roller press, and it has a pair of parallel shaft, the same diameter and a certain gap of a cylindrical wheel, and there are many hemispherical pits of the same shape and size arranged in regular order. Driven by an electric motor, the twin cylinders rotate at the same speed and in opposite directions. As the material falls into the joint of the twin-cylinder wheels, they begin to withstand pressure and generate volume compression between the two ball pits. As the cylinder wheel continues to rotate, the pit will gradually close and the pressure will increase. Pressure peaks when the distance between the two ball pits is minimized. The cylindrical wheel would then rotate away from each other and the pressure would drop rapidly. When the pressing pressure drops to zero, the precipitated slurry expands and falls off.
Working Principle of Slurry Briquetting Machine
The application of the slurry briquetting machine is wide-ranging and encompasses various industries. Here are some specific applications: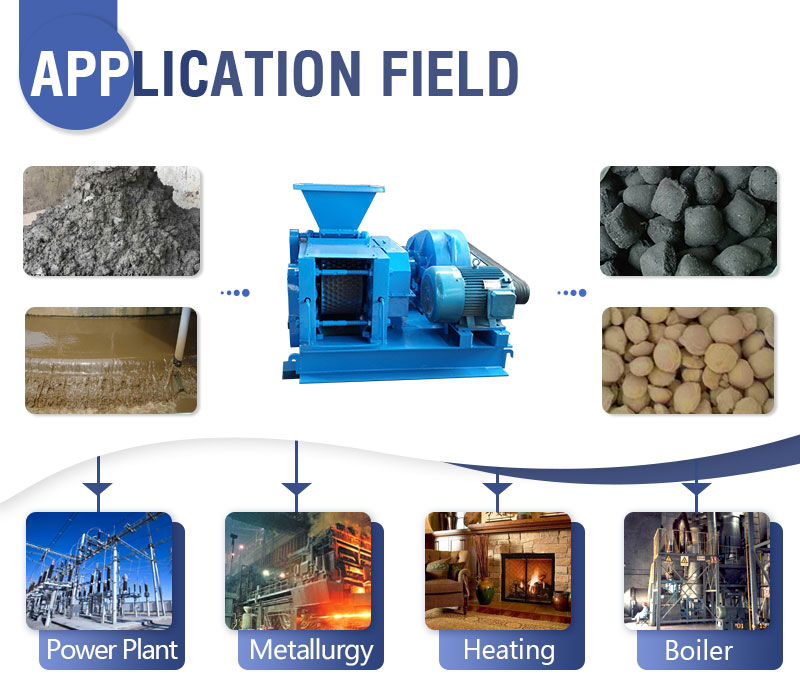 Applications of Slurry Briquetting Machine
Coal Industry: The slurry briquetting machine is commonly used in the coal industry to convert coal slimes into briquettes. These briquettes can be used for electricity generation in power plants, gas production, and boiler burning.
Power Plants: Slurry briquettes produced by the machine can be used as a fuel source in power plants, reducing the reliance on traditional fossil fuels and promoting sustainable energy sources.
Metallurgy Industry: The slurry briquetting machine can be utilized in the metallurgy industry for metal smelting processes. The briquettes can act as a source of fuel, providing a clean and efficient energy supply.
Refractory Material Industry: Due to their high density and hardness, slurry briquettes are useful in the production of refractory materials. They can enhance the performance and properties of these materials.
Chemical Industry: Slurry briquettes can be used in various chemical processes related to heating, calcining lime, and other applications requiring a consistent and efficient fuel source.
Transportation and Heating: Briquettes produced by the slurry briquetting machine can also be used as a fuel source for transportation vehicles and heating purposes, reducing reliance on traditional fossil fuels.
It is important to note that the applications mentioned above are not exhaustive, and the slurry briquetting machine may find use in other industries as well. The economic benefits of using this roller press briquetting machine are significant, as it provides an energy-saving and eco-friendly solution for converting slurry into briquettes. For more specific details and guidance, it is recommended to consult with Zoneding Machine or other industry experts.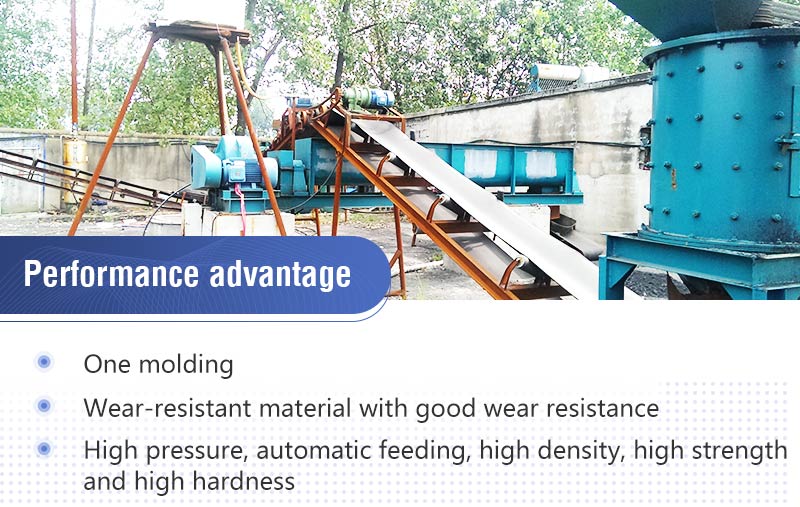 Customer Case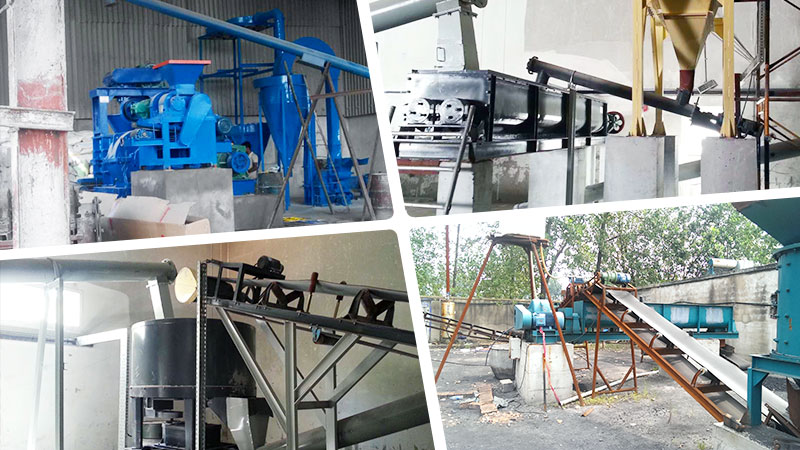 Zoneding Machine Manufacturer
Zoneding Machine is a manufacturer that specializes in producing slurry briquetting machines, coal slag briquetting machines, and coal breeze briquetting machines. These products are their flagship offerings and are known for their reliable quality, excellent service, and competitive pricing. Zoneding Machine's briquetting machines have been proven to have an extraordinary effect on loose materials. If you are interested in learning more about their products, I recommend consulting Zoneding Machine for detailed product information and specifications.
General Specification
Model
Roller Diameter
(mm)
Capacity(t/h)
Power(kw)
Reducer
ZDMQ290
290
1-2.5
5.5-7.5
350
ZDMQ360
360
3-5
7.5-11
350
Heavy ZDMQ360
360
3-5
7.5-11
400
ZDMQ430
430
5-8
15
400
Heavy ZDMQ430
430
5-8
15
500
ZDMQ500
500
8-11
30
650
ZDMQ650
650
10-15
37-45
750
ZDMQ750
750
20-25
45
750
ZDMQ850
850
20-28
55
850
ZDMQ1000
1000
25-35
90
1000
Note: Please keep in mind that data regarding our machines may change due to ongoing improvements in technology. We reserve the right to make changes without prior notice. Additionally, the performance of our machines may vary depending on the specific application. For more detailed information and specifications, I encourage you to chat online with our knowledgeable engineers at Zoneding Machine. They will be able to provide you with the most up-to-date and relevant information for your specific needs.
.