Lime Briquetting Machine
Applied Materials: Lime powder briquetting machine is mainly used in coal, mining, metallurgy, refractory material, chemical industry, building materials, etc.
Discharge Size:

30-60mm or Customized

Capacity:

1-30TPH
Introduction of Lime Briquetting Machine
Due to the processed materials, lime briquette machine is also called quicklime briquette machine and lime briquette press machine. The finished product can be used in lime calcination, blast furnace calcination, metallurgy, and other fields. The main purpose of quicklime press is to reduce dust, control unit weight, recycle and improve its transport characteristics.
Lime briquetting machine is mainly used to press powder materials like quicklime powder, dolomite powder, copper concentrate, chromium ore, manganese ore powder, laterite-nickel ore, lead and zinc scrap, bauxite, non-ferrous metal powder, refractory materials, ceramic materials, iron powder materials in steel plant, converter sludge, ferric oxide powder, iron sheet, aluminum skimmings, activated alumina, etc.

Applications of Lime Briquetting Machine
Lime briquette machine is suitable for lime powder, silicon powder, chromium powder, refractory briquetting and other powdery substance which has no or low water content.
Lime briquette machine produced by Zoneding Machine is mainly used for making the lime powder in coal or power plant into briquettes. The produced lime briquettes can be directly sent into the furnace for combustion or smelting, so as to improve the added value and realize resource recycling at the same time. It can be used to suppress, lime powder, quicklime, refractory materials, non-ferrous metal powder, coal powder, iron powder, coking coal, aluminum, iron, tin oxide, carbon powder, coal powder, slag, gypsum, tailings, sludge, kaolin, clay, activated carbon, coke breeze and other powdery materials. It is widely used in refractory material, power plants, metallurgical, chemical, energy, transportation, heating, and other industries.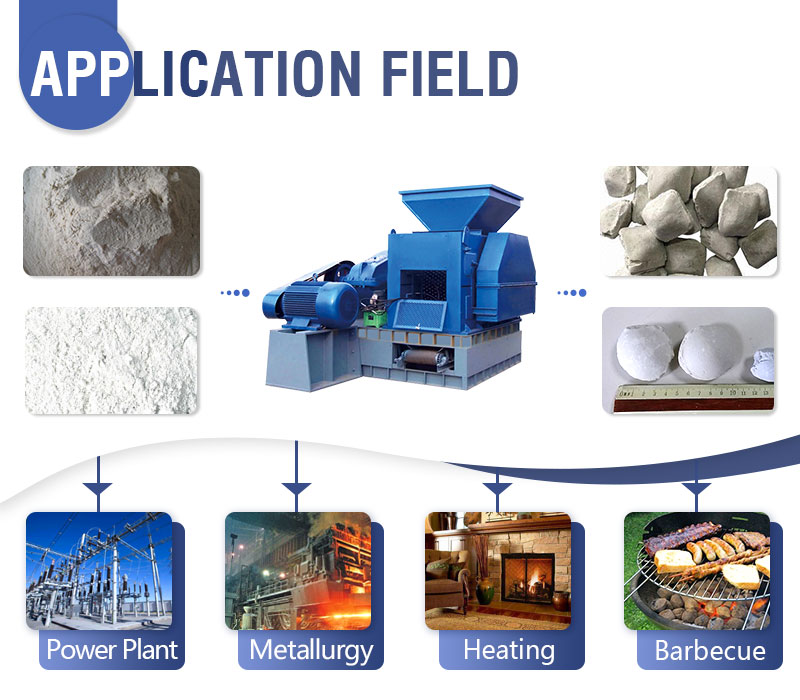 Applications of Lime Briquetting Machine
Performance Advantages of Lime Briquetting Machine
The finished product has complete shape and high strength.
Simple structure and short technical process.
The steel plate is coated with four coats of paint to ensure the durability of the equipment.
High ball forming efficiency, low power consumption, compact structure and easy maintenance.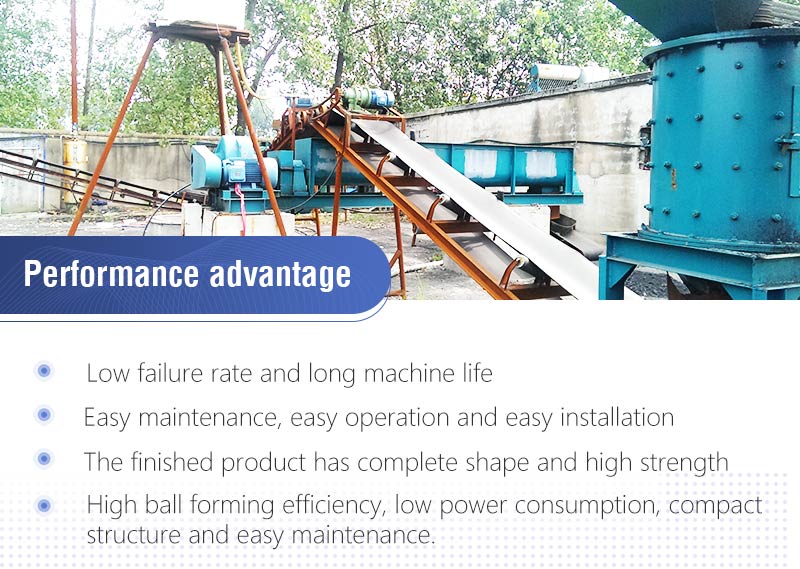 Advantages of Lime Briquetting Machine
Working Principle of Lime Briquetting Machine
Lime briquette machine or double roller press is driven by gear and driven shaft. The hydraulic device is mounted on the back of the driven shaft assembly and driven by electromagnetic speed regulating motor. After the belt pulley and worm reducer run, the screw feeding device presses the material into the feeding port. When the screw feeder and press have the same pressure, the feeding pressure remains constant, thus stabilizing the packing quality. If there is too much feeding, the feeder will overload. If there is too little feed, the feeder will not form a ball. Therefore, the skilled operation technology has become the key conditions of pressure ball.
Operation Guidance of Lime Briquetting Machine
1.The selection of binder: the choice of binder has wide source and low price. A good effect is an important issue, which is directly related with the hardness and density of the balls as well as the product quality and production cost.
2.The uniform degree of materials: the grain size and hardness of the material will affect the pressing effect and work efficiency of lime briquetting machine, so the uniformity of material will have a direct impact on the quality of the product. Before entering the lime briquetting machine, the particle size of materials must be inspected. When reaching the appropriate size, they can be put into the machine.
3.Moisture content and drying process: if the material is too wet or too dry to be placed directly into the equipment without any treatment, problems such as adhesion or ball breakage may occur. Therefore, the material should be kept at a certain humidity, not too dry or too wet.
General Specification
Model
Roller Diameter
(mm)
Capacity(t/h)
Power(kw)
Reducer
ZDMQ290
290
1-2.5
5.5-7.5
350
ZDMQ360
360
3-5
7.5-11
350
Heavy ZDMQ360
360
3-5
7.5-11
400
ZDMQ430
430
5-8
15
400
Heavy ZDMQ430
430
5-8
15
500
ZDMQ500
500
8-11
30
650
ZDMQ650
650
10-15
37-45
750
ZDMQ750
750
20-25
45
750
ZDMQ850
850
20-28
55
850
ZDMQ1000
1000
25-35
90
1000
Note: Data may change for the improving technology; we reserve the right of changing without notice; Machine performance may vary depending on application; for more details, please chat online with Zoneding engineers.
.