Charcoal Briquetting Machine
Applied Materials: Coal powder, iron powder, coke coal, aluminum powder, iron scrap, iron oxide sheet, charcoal powder, carbon powder, slag, sludge,etc.
Briquette size:

25-75mm or customized

Capacity:

2-70TPH
What is Charcoal Briquette Machine?
Charcoal briquette machine or charcoal briquetting machine is a kind of making machine mainly for charcoal briquettes, which is carbonized from biomass like wood chips, shavings, corn stalks, coconut shells, rice husks, bamboo and any other waste ligno-material.
For the outstanding performance as fuel, like high density, small volume and good combustibility, charcoal is extensively used in industry and household. Therefore, charcoal briquette machine is also one of the favorite choices among investors with single machine operation or large-scale briquetting line.
Besides, charcoal briquette machine is also applicable for press other kinds of powder into balls like coal, DRI, lime, aluminum, etc.
Applications of Charcoal Briquette Machine
Charcoal briquette machine can produce charcoal briquettes with shapes of square, ball, round, oval, column, bar, bread, pillow and other special shapes. This kind of briquette machine is widely used in various fields especially in barbeque, home heating, power plant, energy, industrial and civil boiler. It can also be used for dust reduction, controlling unit weight, recycling, and improved transportation in industries such as carbon powder coal.
Here are the details of charcoal briquette machine applications:
● In barbeque, charcoal briquette machine is used to produce specially designed shape of charcoal briquette to attract customers and improve the profits;
● In industrial and civil boiler, charcoal briquette machine produces normal shaped charcoal briquette as fuel;
● In thermal power plant, charcoal briquette machine can be used to press coal powder into briquettes to improve the burning efficiency.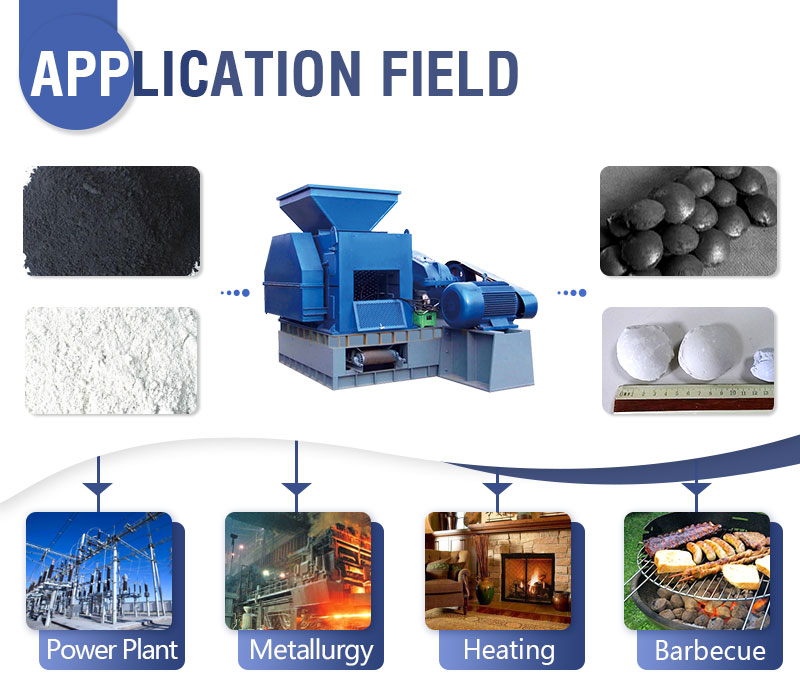 Applications of Charcoal Briquetting Machine
How Does a Charcoal Briquette Machine Work?
As the indispensable equipment for making charcoal, charcoal briquetting machine mainly works based on high-pressure from two rollers that rotate at a reverse direction.
The feeding device sends carbonized biomass materials into the charcoal briquetting machine feeding port. The main motor drives the V-shaped belt and rotate the rollers rolling. These two rollers are made of Mn steel with grooves of specific shape. When rotating, the materials are shaped by the grooves at the top of the charcoal briquette machine and then released and discharged at the bottom.
If needed, a screw pre-pressing device can be equipped as a feeding assistance. This device is to improve the briquette making efficiency and ensure a stable performance of the charcoal briquetting machine.
Charcoal Briquette Size and Moisture Requests
In order to ensure the good quality and mechanical strength of the final product, special attention should be paid to keep the particle size into the machine below 3mm, preferably 1-2mm of the material size, and the moisture within the range of 30-40%. Material over 2 mm, the moisture content should be no more than 10%.

Fininshed Shapes
Customer Case
The charcoal ball press machine has the characteristics of simple structure, small footprint, and convenient operation, so it is very popular among customers. At present, it has been exported to many countries. The upper left corner is a coal press with a capacity of 5TPH in Xuzhou. The upper right corner and the lower-left corner are the aluminum-ash ball press machine with a capacity of 5TPH in the Bahraini. The lower right corner is an aluminum-ash ball press machine with 5TPH in India, and there are a lot of cases like this. If you have any questions that can consult customer service consultants.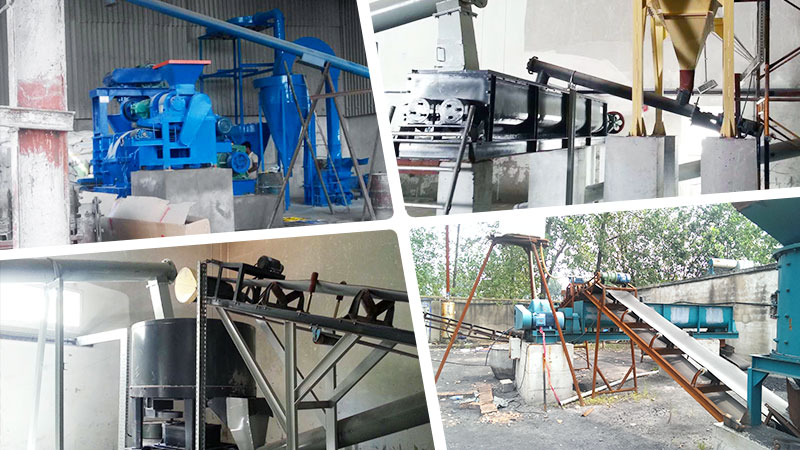 Charcoal Briquette Machine Manufacturer–Zoneding Machine
As a leading charcoal briquette machine manufacturer, Zoneding Machine is specialized in manufacturing various types of high-quality briquette machines, and we can configure a series of high-quality and efficient production lines of these machines. Our goal is to provide the best equipment, best quality service and the most assured choice for customers! The most important is charcoal briquette machine price in China is very low with international-standard quality.
General Specification
Model
Roller Diameter
(mm)
Capacity(t/h)
Power(kw)
Reducer
ZDMQ290
290
1-2.5
5.5-7.5
350
ZDMQ360
360
3-5
7.5-11
350
Heavy ZDMQ360
360
3-5
7.5-11
400
ZDMQ430
430
5-8
15
400
Heavy ZDMQ430
430
5-8
15
500
ZDMQ500
500
8-11
30
650
ZDMQ650
650
10-15
37-45
750
ZDMQ750
750
20-25
45
750
ZDMQ850
850
20-28
55
850
ZDMQ1000
1000
25-35
90
1000
Note: Data may change for the improving technology; we reserve the right of changing without notice; Machine performance may vary depending on application; for more details, please chat online with Zoneding engineers.