Mobile Impact Crusher
Applied Materials: Limestone, river stone, granite, basalt, diabase, ore tailings, construction waste and so on.
Feed Size:

300-700mm

Capacity:

30-800TPH
Introduction of Mobile Impact Crusher
The mobile impact crusher is a type of gravel equipment that has been upgraded from traditional impact breaking equipment. It offers several advantages such as high crushing efficiency and comprehensive functionality. Referred to as the "artifact" of second-stage crushing, it is capable of meeting the crushing and screening requirements of medium and fine materials across a wide range of applications.
Zoneding Machine offers two different types of mobile impact crushers to cater to the diverse needs of users. These are the wheeled impact crusher and the crawler impact crusher. Both options have their specific advantages and are designed to provide efficient and effective crushing capabilities.
The mobile impact crusher combines various major advantages into a single equipment. It incorporates the latest advancements in science and technology, resulting in improved performance, enhanced productivity, and easier mobility. It is designed for seamless and convenient transportation, making it simple to move from one location to another. Furthermore, the mobile impact crusher simplifies the crushing process, ensuring efficient and effective operations.
The mobile impact crusher offers several performance characteristics that make it a highly efficient and versatile equipment for crushing operations. These characteristics include:
Exquisite Structure, Flexible Configuration: The mobile impact crusher features an on-board structure with various types of impact crushers, ensuring a compact structure and reliable operation.
Good Shape of Finished Product: By processing materials with a uniform size, the equipment can produce finished products with a round grain shape and a small amount of needle flake and stone powder. This allows it to meet the requirements of various users and deliver complete specifications.
Strong Transfer Ability: With the fixed impact crusher equipment installed on a mobile platform, users can easily transfer the equipment to different locations, enabling mobile production at multiple sites and flexible transfers.
PLC Intelligent System: Equipped with a PLC intelligent control system, the mobile impact crusher allows users to remotely monitor the equipment's operation and control its operation parameters at any time. This enhances safety, reliability, and operational efficiency.
Multiple Modes of Production: The equipment can be operated individually or in a multi-machine setup, providing flexibility in production according to specific requirements.
Well Adapted: The mobile impact crusher demonstrates strong overall coordination and a reasonable, compact space layout. This improves site adaptability, reduces the time and costs associated with site infrastructure, and ultimately lowers investment costs.
These performance characteristics make the mobile impact crusher a reliable and efficient solution for a wide range of crushing applications. With its versatility and advanced features, it can enhance productivity, deliver high-quality finished products, and optimize operational efficiency.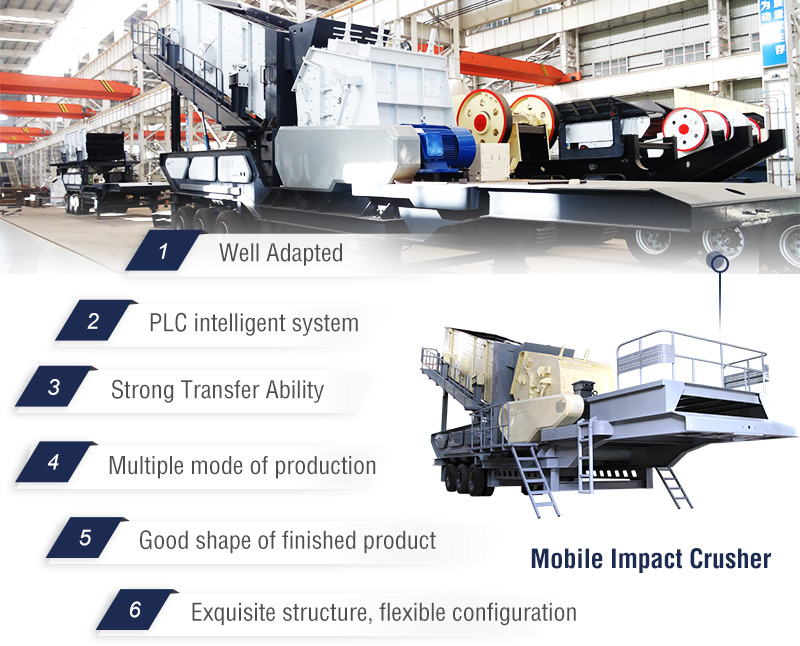 The Features of Mobile Impact Crusher
The mobile impact crusher operates based on the following working principle:
Material Feeding: The vibrating feeder evenly and continuously feeds the material into the impact crusher at a uniform speed.
Crushing Process: The material is crushed by the impact energy generated by the high-speed rotation of the rotor in the impact crusher. The material is propelled to the action area of the plate hammer and collides with the plate hammer on the rotor.
Repeated Impact: The crushed material is thrown to the counter plate device, where it is further broken and then bounces back to the action area of the plate hammer. This process is repeated continuously.
Shaping Process: The material goes from large to small as it enters the counter cavity, undergoing specification shaping until it reaches the required granularity specified by the customer.
Discharge and Screening: The material is discharged from the crusher through the discharge port for further screening. It is divided into several specifications based on size and shape.
Adjusting Particle Size and Shape: The clearance of the rotor's discharge port can be adjusted to meet the specific requirements of the customers regarding particle size and shape.
By operating according to this working principle, the mobile impact crusher effectively crushes and shapes the material to achieve the desired final product specifications. It provides efficient and high-quality crushing capabilities for various applications.
The mobile impact crusher finds applications in various industries and settings due to its versatility and efficient crushing capabilities. Some of the common applications of mobile impact crusher include:
Quarrying and Mining: The crusher is widely used in quarrying and mining operations to crush and process various materials such as limestone, granite, basalt, and ore tailings. It can be used for primary, secondary, or tertiary crushing in these industries.
Construction and Demolition Waste Recycling: Mobile impact crushers are commonly used for recycling construction and demolition waste materials. They can crush and repurpose concrete, asphalt, bricks, and other waste materials for reuse in construction projects.
Road and Highway Construction: Mobile impact crushers are employed in road and highway construction projects to crush and process materials for road base and aggregates. They can handle different types of materials and produce consistent, high-quality aggregates.
Concrete and Asphalt Production: The crusher is utilized in concrete and asphalt production plants to crush and shape aggregate materials for use in the production of concrete, asphalt, and other building materials.
Sand and Gravel Production: Mobile impact crushers are used in sand and gravel production processes to crush and shape raw materials into specific sizes. This is beneficial for various applications, such as construction, landscaping, and building foundations.
Industrial Applications: The crusher is suitable for various industrial applications where efficient crushing of materials is required. It can be used in cement plants, chemical plants, and other industries that require reliable crushing equipment.
The mobile impact crusher's ability to remove the circular vibrating screen and its ability to cooperate with other equipment provide flexibility and convenience in operation. This allows for customization and optimization of the crushing process based on specific production needs.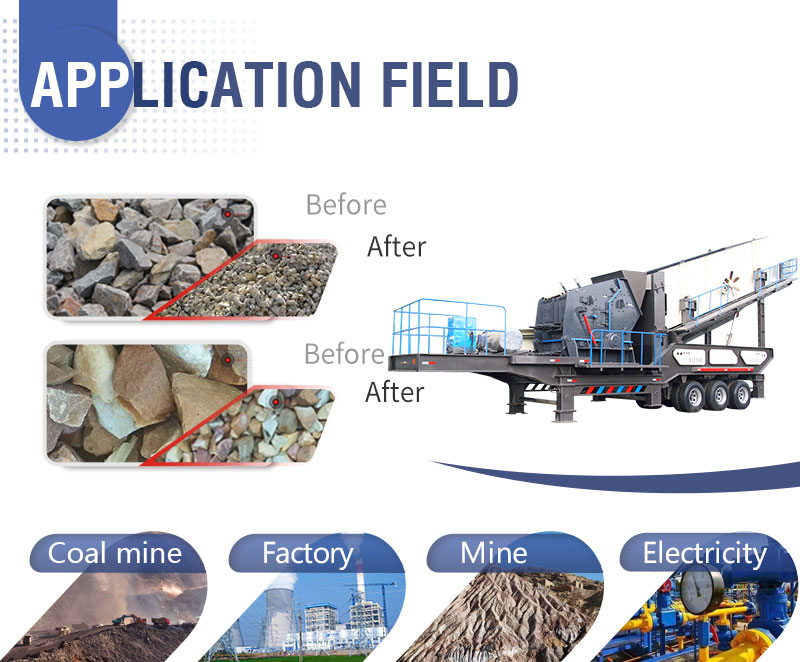 Applications of Mobile Impact Crusher
Customer Case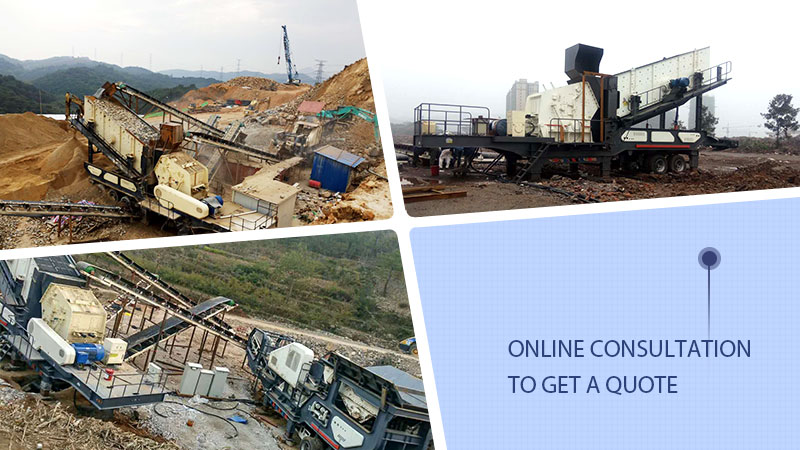 The Manufacturer of Mobile Impact Crusher
The mobile impact crusher mentioned is manufactured by Zoneding Machine. Zoneding Machine is a reputable manufacturer of mining and construction equipment, known for producing high-quality and reliable machinery.
One of the advantages of purchasing the Zoneding Machine mobile impact crusher is that it is available for direct sale from the factory. This eliminates middlemen and marketing costs, allowing users to obtain the crusher at a more economical price. Furthermore, the factory price offered by Zoneding Machine can save users a significant amount of investment costs.
Zoneding Machine understands the diverse needs of customers and offers a variety of options, including small mobile impact crushers, to cater to different requirements. This flexibility allows users to select the most suitable crusher based on their specific needs and project demands.
In summary, Zoneding Machine's mobile impact crusher offers an economical and direct purchase option, ensuring high-quality and reliable performance.
General Specification
| | | | | | |
| --- | --- | --- | --- | --- | --- |
| Model | ZDM938F1210 | ZDM938F1214 | ZDM1149F1315 | ZDM1349F1110 | ZDM1349F1315 |
| Transportation Length(mm) | 12000 | 12000 | 13900 | 15450 | 15450 |
| Transportation Width(mm) | 2550 | 2550 | 2900 | 2950 | 2950 |
| Transportation Height(mm) | 3900 | 3900 | 4450 | 4500 | 4500 |
| Maximum Length(mm) | 12500 | 12500 | 13900 | 15450 | 15450 |
| Maximum Width(mm) | 3250 | 3260 | 3250 | 3250 | 3250 |
| Maximum Height(mm) | 5100 | 5200 | 5200 | 5200 | 5200 |
| Weight(t) | 39 | 44 | 54 | 62 | 62 |
| Crusher Model | PF-1210 | PF-1214 | PF-1315 | HD1110 | HD1315 |
| The Maximum Feeding Size(mm) | 350 | 350 | 500 | 400 | 700 |
| Production Capacity(t/h) | 70-130 | 100-180 | 130-250 | 112 | 280 |
| Vibrating Feeder | ZSW950×3800 | ZSW950×3800 | ZSW110×4900 | ZSW130×4900 | ZSW130×4900 |
| Main Belt Conveyor | B800×8.5M | B800×8.5M | B1000×9.5M | B800×11M | B1200×11M |
| Side-opening Belt conveyor(Optional) | B500×3.2M | B500×3.2M | B650×4M | B650×4M | B650×4M |
| Genset(Optional) (kw) | 320 | 320 | 400 | 320 | 440 |
| Iron Separator (Optional)(kw) | RCYD(C)-8 | RCYD(C)-8 | RCYD(C)-10 | RCYD(C)-8 | RCYD(C)-12 |
Please note that the information provided about the Zoneding Machine mobile impact crusher is accurate as of the time of writing. However, as technology continues to advance, there may be changes in the data and specifications of the equipment. Zoneding Machine reserves the right to modify their products without prior notice.
It's important to consider that machine performance may vary depending on the specific application and operating conditions. To obtain more detailed and up-to-date information about the mobile impact crusher, it is recommended to chat online with Zoneding Machine engineers. They will be able to provide you with the most relevant and accurate details based on your specific requirements and inquiries.