Mobile Jaw Crusher
Applied Materials: River pebbles, granite, basalt, limestone, construction waste, bluestone and so on.
Feed Size:

400-1200mm

Capacity:

85-650TPH
The Introduction of Mobile Jaw Crusher
The mobile jaw crusher, also known as mobile jaw crusher plant, is a crushing equipment that consists of a jaw crusher and a mobile crushing station. It comes in two variations: tracked mobile jaw crusher and wheeled mobile jaw crusher. This equipment combines feeding, crushing, and conveying functions into one unit.
The mobile jaw crusher is designed for on-site direct crushing processing of materials. It offers the advantage of lower input and higher benefits, making it popular among processing plants. By adopting an integrated operation mode, it eliminates the need for complex site infrastructure and auxiliary facilities. This makes it a cost-effective option in mobile sand production, reducing working hours and saving on production costs.
The mobile jaw crusher is widely used in various application fields. It can replace traditional fixed coarse crushing production lines and can be operated independently or in conjunction with other mobile crushing machines. It provides flexibility and convenience for crushing operations in different working environments.
The mobile jaw crusher offers several advantages:
Cost Reduction: With the ability to be directly driven to the work site, there is no need for long-distance transportation of raw materials. This reduces material consumption and working hours.
Flexible Match: The mobile jaw crusher has a smaller turning radius, allowing for more flexible movement and saving on material transportation costs. The main machine's crushing unit can be freely interchangeable, accommodating various types of jaw crushers based on specific needs. Additionally, other medium and fine crushing equipment can be equipped, increasing output by more than 20%.
Energy Saving: The close space design helps reduce dust and noise. The inclusion of multi-effect dust removal and water spraying equipment helps control pollution within national standards.
Dual Power Options: The mobile jaw crusher operates using a combination of diesel engine and electric motor power supply. This allows users to freely switch between power modes as needed.
Strong Adaptability: The compact size of the machine allows it to operate in small places with low requirements for the work site.
These advantages make the mobile jaw crusher a versatile and efficient crushing equipment option for a variety of applications.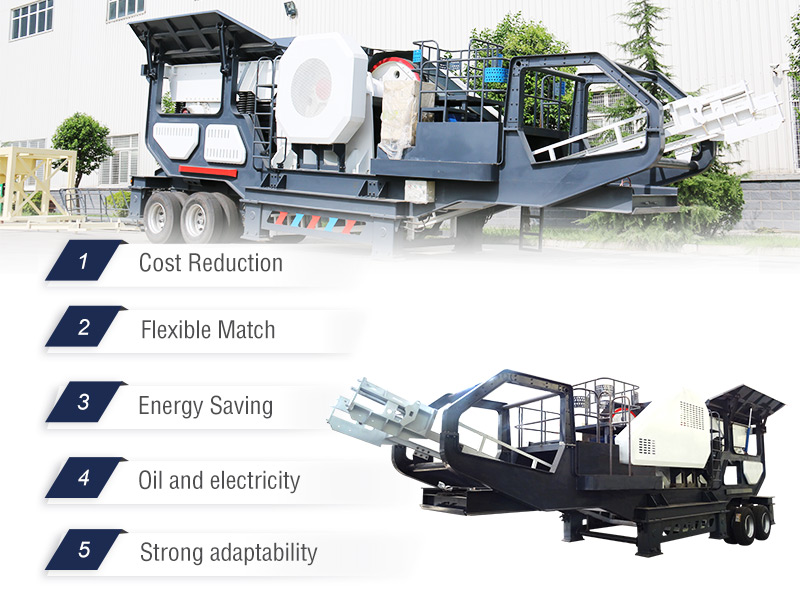 Advantages of Mobile Jaw Crusher
The mobile jaw crusher is commonly used in various applications, including:
Concrete mixing plants: The mobile jaw crusher can efficiently crush materials such as granite, limestone, and river stone, which are commonly used in the production of concrete mixtures.
Gravel yards: The equipment is suitable for crushing materials like basalt, diabase, and ore tailings, which can be used in the construction of gravel yards.
Construction waste treatment plants: The mobile jaw crusher is effective in processing construction waste materials, helping to reduce waste and repurpose it for other purposes.
Artificial sand making: The mobile jaw crusher can be used to produce artificial sand from cobble, rock (such as limestone, granite, diabase, basalt, and andesite), ore tailings, and stone scurf. This is particularly useful in applications where natural sand is scarce or not readily available.
In summary, the mobile jaw crusher has a wide range of applications, including various construction materials, highway and railway projects, construction waste treatment, and artificial sand production. Its versatility and flexibility make it a valuable asset in various industries.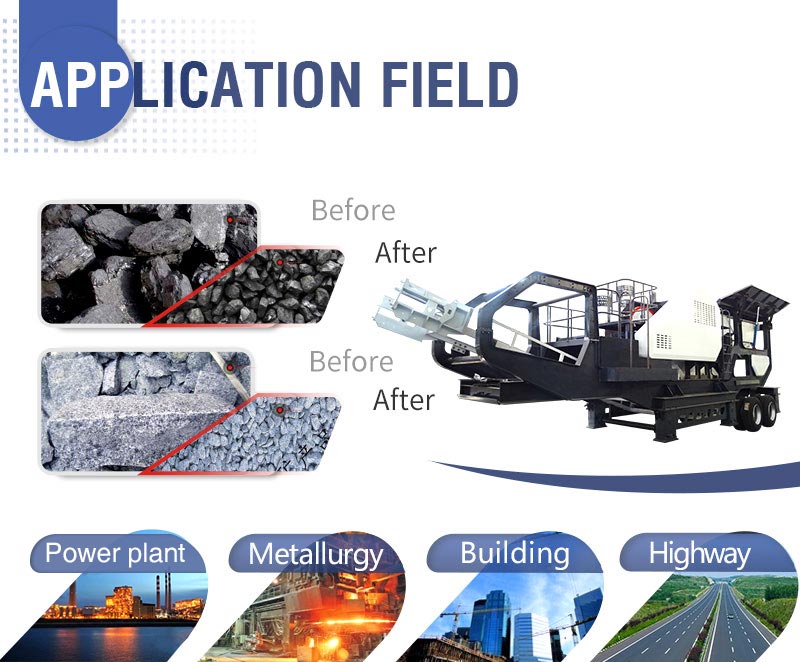 Applications of Mobile Jaw Crusher
The Working Principle of Mobile Jaw Crusher
The working principle of a mobile jaw crusher is straightforward. The process begins with the vibrating feeder, which uniformly feeds the material to the jaw crusher. The jaw crusher then performs the initial crushing of the material.
After the initial crushing, the material goes through a circular vibrating screen, which helps to classify the particles. This creates a closed circuit system, allowing for continuous operation of the mobile jaw crusher.
In summary, the mobile jaw crusher operates by receiving the material through the vibrating feeder, crushing it with the jaw crusher, and then classifying it through the circular vibrating screen. This process allows for the efficient and continuous operation of the equipment.
Customer Case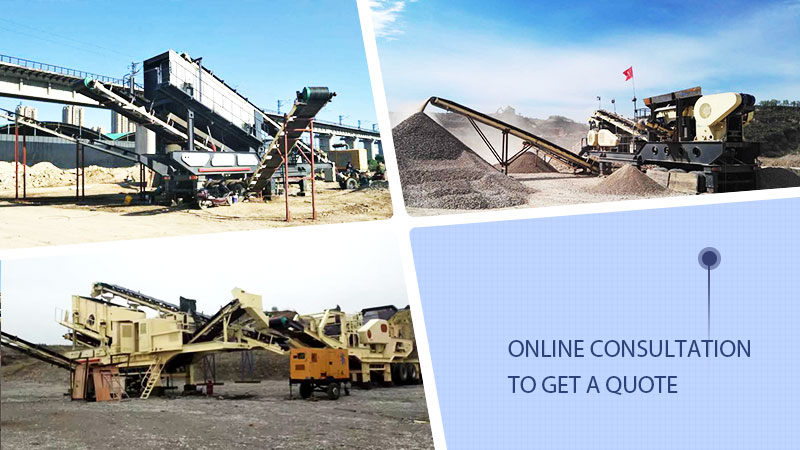 The Manufacturer of Mobile Jaw Crusher
The price of a mobile jaw crusher can vary depending on various factors such as the manufacturer, model, specifications, and additional features. Generally, mobile jaw crushers are priced higher than regular fixed jaw crushers due to their advanced structure and powerful functions.
However, it is important to consider the cost-effectiveness of the investment. Small manufacturers may not be recommended as they may not provide the desired level of quality and service. It is advisable to choose a mobile jaw crusher from reputable manufacturers who can provide reliable products and after-sales support.
If your site is small and requires an output within the range of 200-600 tons, it is suggested to opt for a mobile jaw crushing plant. This option not only meets site requirements but also enables you to afford the capital cost, leading to higher profits in the long run.
Zoneding Machine is a manufacturer that provides high-quality mobile jaw crusher machines. You can consult with them for more information and to get the best possible solution for your needs.
General Specification
| | | | | |
| --- | --- | --- | --- | --- |
| Model | ZDM938HD86 | ZDM1149HD98 | ZDM1349HD110 | ZDM1349HD125 |
| Transportation Length(mm) | 12600 | 13500 | 14500 | 15200 |
| Transportation Width(mm) | 2600 | 2700 | 2800 | 2900 |
| Transportation Height(mm) | 3870 | 4200 | 4450 | 4500 |
| Maximum Length(mm) | 12500 | 14000 | 16100 | 16700 |
| Maximum Width(mm) | 4100 | 4500 | 5100 | 5100 |
| Maximum Height(mm) | 4100 | 4900 | 5000 | 5300 |
| Weight(t) | 39 | 57 | 55 | 65 |
| Tire Configuration | Biax Fitted | Triaxial Fitted | Triaxial Fitted | Triaxial Fitted |
| Jaw Crusher | HD86 | HD98 | HD110 | HD125 |
| Maximum Feeding Size(mm) | 500 | 550 | 660 | 800 |
| Discharge Opening Size(mm) | 50-150 | 75-175 | 100-200 | 125-225 |
| Capacity(t/h) | 85-275 | 110-350 | 215-510 | 280-650 |
| Vibrating Model | ZSW380×95 | ZSW420×110 | ZSW490×130 | ZSW490×130 |
| Main Belt Conveyor | B800×8.5M | B1000×9.5M | B1000×11M | B1200×11M |
| Side-opening Belt conveyor(Optional) | B500×3M | B650×3.5M | B650×4M | B650×4M |
| Genset(Optional) (kw) | 200 | 250 | 270 | 400 |
| Iron Separator (Optional) | RCYD(C)-8 | RCYD(C)-10 | RCYD(C)-10 | RCYD(C)-12 |
Note: The information provided regarding the manufacturer, price, and recommendations for mobile jaw crushers may be subject to change due to evolving technology and market conditions. The manufacturer reserves the right to modify the data without prior notice. It is important to note that machine performance may vary depending on the specific application. For more detailed and up-to-date information, it is recommended to chat online with Zoneding engineers who can provide you with the most accurate and relevant details based on your specific requirements.