Kaolin Dryer
Applied Materials: Kaolin, coal, aluminum powder, iron oxide skin, slag, gypsum, clay, activated carbon, quartz sand and so on.
Diameter×Length:

Φ1.2×8.0-Φ3.6×28m

Capacity:

1.9-76TPH
What is Kaolin Dryer?
Kaolin dryer, also known as kaolin drying machine or kaolin drum dryer, is a drying equipment used for drying granular, viscous, or pasty materials with higher water content and special requirements. It is commonly used in industries such as papermaking, ceramics, rubber, chemicals, coatings, pharmaceuticals, and national defense.
Kaolin, a mineral raw material, is widely used in the papermaking industry. When processed with a kaolin dryer, it exhibits several advantages such as reduced power consumption (only 30% of parallel products) and decreased coal consumption (only 50%). Additionally, the material index is higher than the nationwide standard after the drying process.
The kaolin dryer features highly sealed covers on both ends of the host, which contributes to energy savings and environmental friendliness.
Kaolin Dryer in Factory
Kaolin dryer is widely used in various industries for drying different materials. Its applications include:
Concentrate Powder Drying: Kaolin dryer is used for drying concentrate powder, which can be produced in various industries such as mining and mineral processing.
Slag Drying: It is also used for drying slag, which is a by-product of various industrial processes, including metal smelting.
Limestone Drying: Kaolin dryer can be used to dry limestone, which is used in construction materials, as a raw material in cement production, and in various industrial applications.
Coal Drying: Kaolin dryer is used for drying coal, which is a widely used energy source and is used in various industries, including power plants.
Clay and Bentonite Drying: Kaolin dryer is particularly suitable for drying clay and bentonite, which are widely used in ceramics, construction materials, and foundries.
The new generation of kaolin dryer, after nearly 25 years of development, is designed to be energy-efficient and consume less power, leading to cost savings and environmental benefits.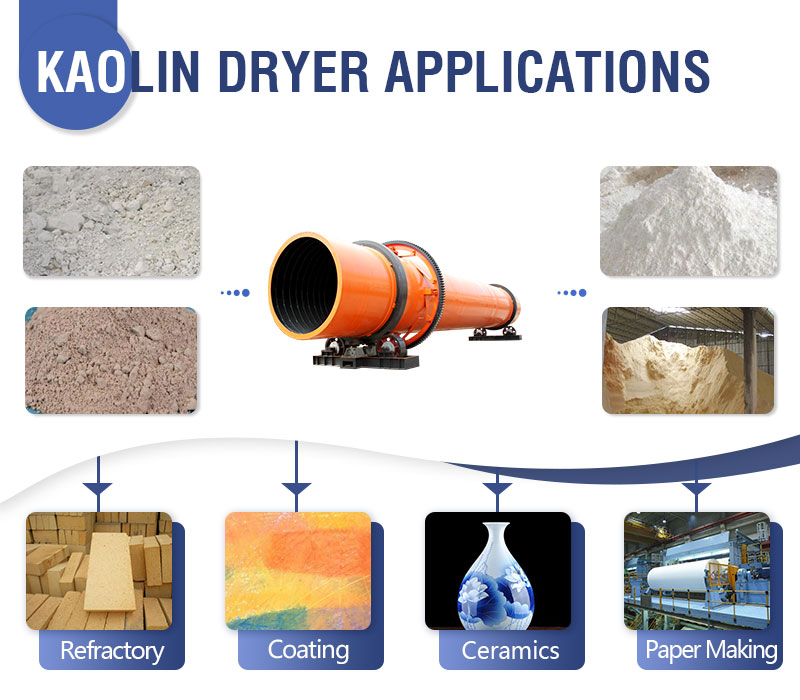 Application of Kaolin Dryer
How Kaolin Rotary Dryer Works?
Kaolin rotary dryer is a key piece of equipment used in the kaolin drying process. It can be installed as a standalone device or as part of a complete system with other machines such as a dust collecting system, feeding machine, conveyor, and mixer.
The kaolin dryer is installed at a specific angle. When the kaolin drying machine operates, wet kaolin is introduced into the drum and lifted to the top of the interior by lifting plates inside the drum. As it falls, the moist material is crushed by the blades, which are rotating at high speed. This crushing process is repeated until the wet kaolin is dried and moves toward the exit of the cylinder under the influence of gravity.
Simultaneously, scorching hot air from the direct-fired hot-blast furnace facilitates heat transfer and blows the dried kaolin out into the conveyor. This completes the drying process.
The design and operation of the kaolin rotary dryer ensure efficient and effective drying of the kaolin material, producing high-quality dried kaolin for various industrial applications.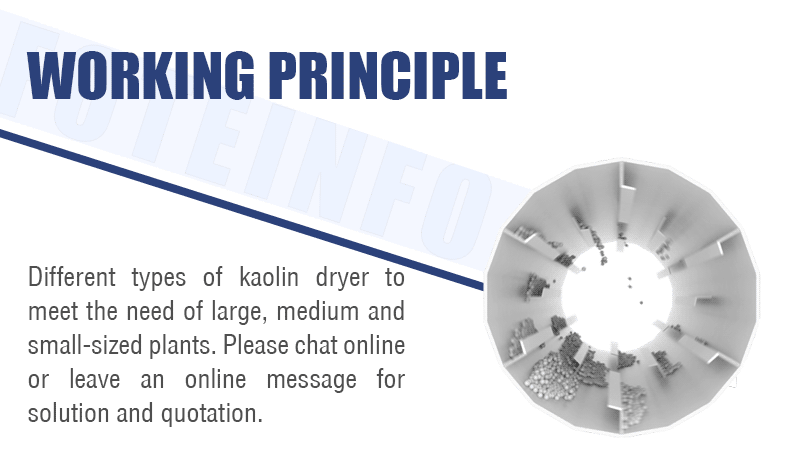 Working Principle of Kaolin Dryer
The Zoneding kaolin dryer machine offers several advantages:
Large processing capacity: The machine has a capacity ranging from 1.9 to 76TPH, with a drum volume ranging from 9m3 to 285m3. This large capacity allows for efficient processing of kaolin with low fuel consumption and drying cost.
High temperature resistance: The machine is designed to handle the refractoriness of kaolin, allowing for fast drying with high temperature air. This ensures quick and effective drying of the kaolin material.
Strong scalability: The machine takes into consideration production surplus and can accommodate small increases in yield without requiring equipment replacement. This provides flexibility and cost savings in production planning.
Self-aligning tug structure: The machine utilizes a self-aligning tug structure, ensuring good matching of the rotating ring. This reduces wear and power consumption, leading to improved efficiency and durability.
Specially designed wheel structure: The machine is equipped with a wheel structure that effectively reduces horizontal thrust caused by the inclined working of the equipment. This enhances stability and performance during operation.
Strong anti-overload ability: The cylinder of the machine operates smoothly and has high reliability, offering excellent resistance to overload conditions. This ensures safe and reliable operation even under demanding circumstances.
Overall, the Zoneding kaolin dryer machine is designed to provide efficient and reliable drying of kaolin materials, with advantages such as large capacity, high temperature resistance, scalability, reduced wear, stability, and anti-overload capability.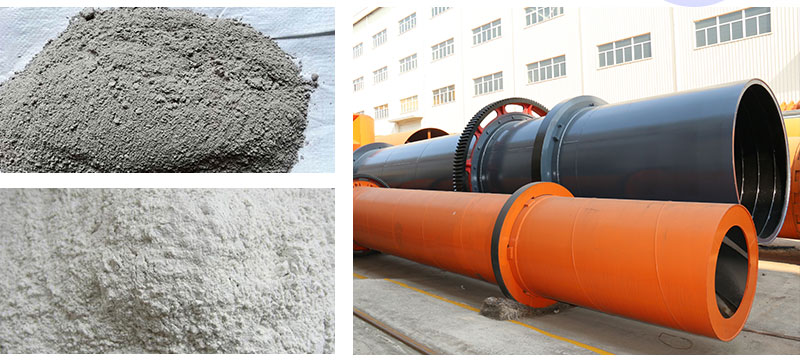 Kaolin Dryer
The kaolin drum dryer offers environmental protection value through the following features:
Equipped with a pulse dust collector: The dryer is equipped with a pulse dust collector, which helps to reduce the dust content in the exhaust. This ensures a cleaner working environment and minimizes the release of dust particles into the atmosphere.
Well-sealed drum design: The drum of the kaolin dryer is well-sealed, preventing the leakage of dust and minimizing the amount of dust emissions. This reduces the impact on air quality and contributes to environmental protection.
Energy-saving operation: The kaolin drum dryer is designed to be energy-efficient. Its electricity consumption is only 30% of parallel machines, resulting in reduced energy consumption and lower environmental impact. Additionally, the coal consumption is only 50% compared to other drying methods, further contributing to energy conservation and environmental protection.
By incorporating a pulse dust collector, employing a well-sealed drum design, and operating in an energy-efficient manner, the kaolin drum dryer helps to reduce dust emissions and minimize energy consumption, making it an environmentally friendly option for kaolin drying processes.
Zoneding Kaolin Dryer Customer Site
Kaolin Dryer Manufacturer
Zoneding Machine is a well-established kaolin dryer manufacturer with a rich history spanning about 40 years. The company has extensively incorporated advanced technology from leading countries such as Germany, America, and Japan, and has developed its own range of production equipment. Zoneding offers a variety of high-quality kaolin dryer machines for sale, catering to the diverse needs of different plant sizes and requirements.
One of the key advantages of Zoneding is its competitive pricing. The company offers affordable kaolin dryers without compromising on quality. In addition, Zoneding provides free consultation services and a 24-hour customer support system. Whether you prefer to chat online with their skilled sales team or leave an online message, you can expect a prompt response within 24 hours. Zoneding's dedicated team will work with you to understand your unique needs and offer customized solutions.
Overall, Zoneding Machine stands out as a reputable manufacturer with a long-standing presence in the industry, providing high-quality kaolin dryer machines and exceptional service.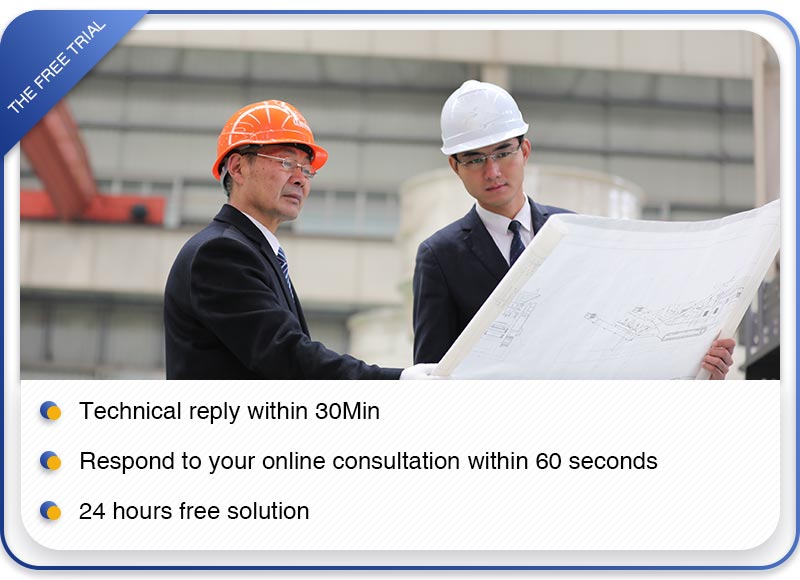 General Specification
Spec./m
(Dia.×Length)
Shell Cubage
(m³)
Capacity
(t/h)
Installation
Obliquity
(%)
Highest Inlet
Air Temperature
(℃)
Main Motor
(kw)
Weight
(t)
Φ1.2×8.0
9.0
1.9~2.4
3~5
700~800
7.5
9
Φ1.2×10
11.3
2.4~3.0
3~5
700~800
7.5
11
Φ1.5×12
21.2
4.5~5.7
3~5
700~800
15
18.5
Φ1.5×14
24.7
5.3~6.6
3~5
700~800
15
19.7
Φ1.5×15
26.5
5.7~7.1
3~5
700~800
15
20.5
Φ1.8×12
30.5
6.5~8.1
3~5
700~800
18.5
21.5
Φ1.8×14
35.6
7.6~9.5
3~5
700~800
18.5
23
Φ2.2×12
45.6
9.7~12.2
3~5
700~800
22
33.5
Φ2.2×14
53.2
11.4~14.2
3~5
700~800
22
36
Φ2.2×16
60.8
13.0~16.2
3~5
700~800
22
38
Φ2.4×14
63.3
13.5~16.9
3~5
700~800
37
45
Φ2.4×18
81.4
17.4~21.7
3~5
700~800
37
49
Φ2.4×20
90.4
19.3~24.1
3~5
700~800
45
54
Φ2.4×22
99.5
21.2~26.5
3~5
700~800
45
58
Φ2.6×24
127.4
27.2~34.0
3~5
700~800
55
73
Φ3.0×20
141.3
30.1~37.7
3~5
700~800
75
85
Φ3.0×25
176.6
37.7~47.1
3~5
700~800
75
95
Φ3.2×25
201
42.9~53.6
3~5
700~800
90
110
Φ3.6×28
285
60.8~76.0
3~5
700~800
160
135
Technical parameters of indirect heat dryer:
Shell
diameter
×shell
Length
Items
Inside
diameter
of outer
shell
(mm)
Inside
diameter
of inner
shell
(mm)
Shell
Length
(m)
Shell
cubage
(m³)
Shell
obliquity
Lifting
blade
form
Highest
inlet air
temperature
(℃)
Dimensions
(m)
Φ1.5×15m
1500
500
15
20.27
3-5%
Lifting form
850
16.2×2.7×2.7
Φ1.5×17m
17
22.97
18.2×2.7×2.7
Φ1.5×19m
19
25.68
20.0×2.9×2.9
Φ1.8×21m
1800
650
21
35.91
3-5%
Lifting form
850
22.5×2.7×2.7
Φ1.8×23m
23
39.33
24.5×2.9×2.9
Φ1.8×25m
25
42.75
26.5×2.9×2.9
Φ2.2×21m
2200
800
21
58.10
3-5%
Lifting form
850
—-
Φ2.2×23m
23
63.61
Φ2.2×25m
25
69.15
Please note that the information provided about Zoneding Machine's kaolin dryer should be verified directly with the company, as data may change due to evolving technology. Zoneding reserves the right to make changes without prior notice. Machine performance can also vary depending on specific application requirements. For more accurate and up-to-date details, it is recommended to chat online with Zoneding engineers who can provide you with more specific information tailored to your needs.