Sludge Dryer
Applied Materials: Sludge, coal slime, slag, clay, bentonite, fly ash, lignite, limestone, kaolin, quartz sand, metal concentrate, ore powder, waste residue and tailings, etc.
Moisture Reduction:

40-75%

Capacity:

1.9-76.0TPH
Sludge drying is a process that aims to remove moisture from high-moisture sludge to enable its recycling. There are two primary methods for drying sludge: natural drying and mechanical drying. Mechanical drying is considered more efficient as it can achieve faster and more consistent results. By reducing the water content, sludge quality is improved, and its volume is reduced, making storage and transportation more convenient. Zoneding offers sludge drying machines based on advanced international technology, particularly from Europe, considering the unique characteristics of sludge such as high water content, high organics content, and low specific gravity. These machines are equipped with various heat sources, such as solid fuels (coal), gaseous fuels (gas and steam), and liquid fuels (oil), allowing flexibility to meet different customer requirements.
Sludge Dryer
Applications of Sludge Dryer Machine
The sludge dryer machine plays a crucial role in dehydrating and drying wet sludge to achieve a specific moisture level. Sludge, which is a complex mixture derived from sewage disposal, contains organic fragments, bacteria, inorganic particles, colloids, and more. It has high moisture content, high organic matter content, fine particles, and low specific gravity.
With the use of specially designed sludge dryer equipment, sludge can be converted into a sustainable green fuel and valuable resource. The dried sludge finds various applications, including soil improvement in agriculture, utilization as a raw material in building material production (such as cement), and even the manufacturing of biochemical fiberboard. The sludge dryer machine facilitates the transformation of sludge, improving its usability and minimizing its environmental impact.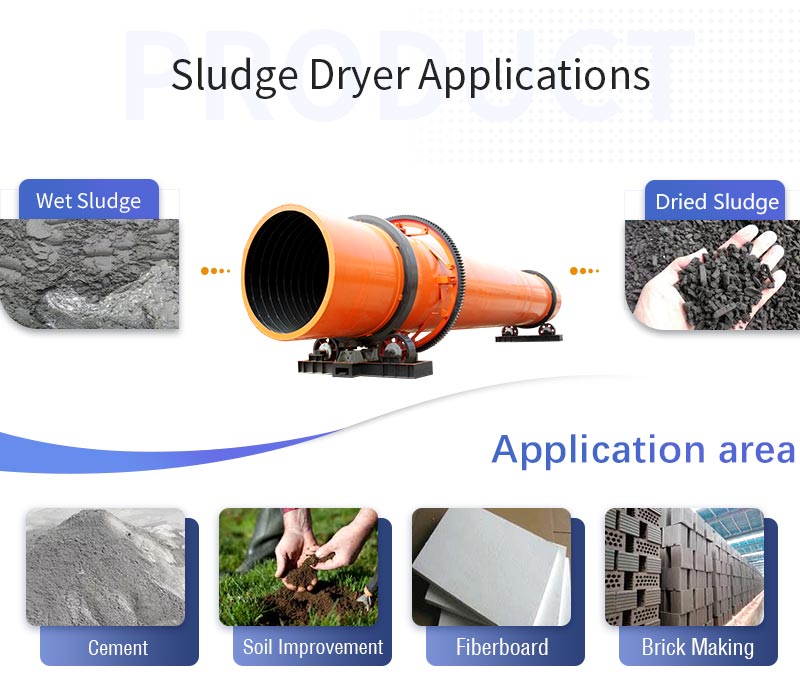 Applications of Sludge Dryer
The sludge drying machine from Zoneding offers several structural advantages and benefits.
It is comprised of a barrel, supporting device, driving device, and sealing device. The various working areas, such as the discharging area, lifting board area, cleaning area, and feeding area, contribute to its efficient operation.
One of its key advantages is its advanced structure, which allows for wide applications and strong adaptability. The machine is equipped with a new self-cleaning device that facilitates the drying of various sludge and high viscosity materials.
Durability is another highlight, as the dryer is constructed with high-quality steel, providing exceptional hardness and toughness. The rational design of the under rollers and available lubrication methods ensure the machine's longevity.
The dryer demonstrates effective drying and high thermal efficiency. It is equipped with well-functioning transmission, exhaust, and feeding and discharging radiators, allowing for optimal performance. The scorching air blows at high speeds, ensuring thorough material dispersion.
Furthermore, the sludge drying machine ensures stable quality of the finished products. The drying process reduces the volume of dried granular or powder sludge by 4-5 times while maintaining the quality. This represents a significant improvement in the nature of the sludge.
In addition to its functional advantages, the machine operates smoothly, has an elegant appearance, and produces low noise, making it a highly desirable choice for sludge drying applications.
Stucture of Sludge Dryer
A sludge dryer offers several benefits in terms of environmental protection and economic advantages.
One of the key benefits is the reduction in weight and volume of the sludge. By evaporating the water content, the sludge dryer significantly decreases the volume and weight, making it easier to store and transport.
Additionally, the drying process stabilizes the sludge, resulting in a reduction in putrid odors and improved disinfection effects. This is important for maintaining a healthier environment and reducing potential negative impacts.
Furthermore, using a sludge drying equipment simplifies subsequent processes. The drying of the sludge increases its calorific value, making it easier to use as a fuel source. This can lead to significant economic advantages by reducing the need for other energy sources.
Overall, a sludge dryer provides environmental protection through volume and weight reduction, stabilization of sludge, and economic advantages by simplifying subsequent processes and utilizing the dried sludge as a valuable resource.
There are two commonly used types of sludge dryers: the single-cylinder rotary sludge dryer and high-viscosity sludge drying equipment.
The single-cylinder rotary sludge dryer is an improved version of the ordinary rotary dryer. It is specially designed with internal cleaning and breaking devices. This type of dryer is suitable for drying materials with a certain viscosity and smaller particle size.
Alternatively, the high-viscosity sludge drying equipment employs hot-air spiral-blade drying technology. Depending on the viscosity of the sludge, it can have double or triple shafts. This type of dryer is capable of effectively drying sludge with humidity levels below 85% to as low as 12% in just one cycle. Additionally, it achieves this drying process within a relatively short period, typically lasting between 2 to 10 minutes.
Worker at Rotary Dryer Workshop
Sludge Dryer at Customer Site
Sludge Dryer Manufacturer
Zoneding Machine is a highly reputable manufacturer of sludge dryers, headquartered in Zhengzhou Province, China. We specialize in producing a wide range of high-quality sludge dryers that are tailored to suit various customer needs. Our team of professional engineers is dedicated to providing free consultation services, including pricing, customized solution recommendations, and flow chart design.
Efficiency and promptness are our priorities at Zoneding Machine. We ensure a quick and timely delivery period of two weeks for our sludge dryers, allowing you to access our equipment promptly. In addition to product delivery, we also offer on-site installation guidance and comprehensive operation training, ensuring smooth integration and optimal utilization of our sludge dryers.
At Zoneding Machine, we pride ourselves on delivering exceptional customer service and top-quality equipment. Whether you are interested in purchasing a sludge dryer or require assistance with installation and operation, we are committed to meeting your needs with professionalism and expertise.
General Specification
Spec./m
(Dia.×Length)
Shell Cubage
(m³)
Capacity
(t/h)
Installation
Obliquity
(%)
Highest Inlet
Air Temperature
(℃)
Main Motor
(kw)
Weight
(t)
Φ1.2×8.0
9.0
1.9~2.4
3~5
700~800
7.5
9
Φ1.2×10
11.3
2.4~3.0
3~5
700~800
7.5
11
Φ1.5×12
21.2
4.5~5.7
3~5
700~800
15
18.5
Φ1.5×14
24.7
5.3~6.6
3~5
700~800
15
19.7
Φ1.5×15
26.5
5.7~7.1
3~5
700~800
15
20.5
Φ1.8×12
30.5
6.5~8.1
3~5
700~800
18.5
21.5
Φ1.8×14
35.6
7.6~9.5
3~5
700~800
18.5
23
Φ2.2×12
45.6
9.7~12.2
3~5
700~800
22
33.5
Φ2.2×14
53.2
11.4~14.2
3~5
700~800
22
36
Φ2.2×16
60.8
13.0~16.2
3~5
700~800
22
38
Φ2.4×14
63.3
13.5~16.9
3~5
700~800
37
45
Φ2.4×18
81.4
17.4~21.7
3~5
700~800
37
49
Φ2.4×20
90.4
19.3~24.1
3~5
700~800
45
54
Φ2.4×22
99.5
21.2~26.5
3~5
700~800
45
58
Φ2.6×24
127.4
27.2~34.0
3~5
700~800
55
73
Φ3.0×20
141.3
30.1~37.7
3~5
700~800
75
85
Φ3.0×25
176.6
37.7~47.1
3~5
700~800
75
95
Φ3.2×25
201
42.9~53.6
3~5
700~800
90
110
Φ3.6×28
285
60.8~76.0
3~5
700~800
160
135
Technical parameters of indirect heat dryer:
Shell
diameter
×shell
Length
Items
Inside
diameter
of outer
shell
(mm)
Inside
diameter
of inner
shell
(mm)
Shell
Length
(m)
Shell
cubage
(m³)
Shell
obliquity
Lifting
blade
form
Highest
inlet air
temperature
(℃)
Dimensions
(m)
Φ1.5×15m
1500
500
15
20.27
3-5%
Lifting form
850
16.2×2.7×2.7
Φ1.5×17m
17
22.97
18.2×2.7×2.7
Φ1.5×19m
19
25.68
20.0×2.9×2.9
Φ1.8×21m
1800
650
21
35.91
3-5%
Lifting form
850
22.5×2.7×2.7
Φ1.8×23m
23
39.33
24.5×2.9×2.9
Φ1.8×25m
25
42.75
26.5×2.9×2.9
Φ2.2×21m
2200
800
21
58.10
3-5%
Lifting form
850
—-
Φ2.2×23m
23
63.61
Φ2.2×25m
25
69.15
Please note that the information provided is subject to change as technology advances. Zoneding Machine reserves the right to make changes without prior notice. Machine performance may vary depending on the specific application. For the most accurate and up-to-date details, we encourage you to chat online with our team of Zoneding engineers. They will be able to provide you with comprehensive information and address any specific concerns or inquiries you may have.