Bentonite Dryer
Applied Materials: Bentonite, coal, clay, kaolin, aluminum, iron, iron oxide skin, toner, slag, gypsum, tailings, sludge, activated carbon, coke, ore powder, scrap, waste, etc. in ore processing plants, refractories, power plants, metallurgy, chemical industry, energy, transportation,
Dia.×Length: ​

Φ1.2×8.0-Φ3.6×28m

Capacity:

2-30TPH
What is Bentonite Dryer?
A Bentonite dryer is a specialized machine used to dry bentonite, a type of clay rock commonly found in various colors such as white, pale-yellow, light gray, light green, pink, and brown-red. Bentonite often contains minerals like illite, kaolinite, chlorite, and zeolite. Bentonite dryer is designed to handle the adsorptivity and other characteristics of bentonite, with a large capacity to accommodate the drying process.
Zoneding, a provider of bentonite drying technology, employs a new design that incorporates grouped lifting blades equipment. This design improves the material filling rate and prolongs the stay time of the wet bentonite in the cylinder, resulting in enhanced production efficiency. Zoneding offers customized bentonite dryer machines to suit specific requirements.
Applications of Bentonite Dryer
The bentonite dryer has a wide range of applications in various industries. It is a simple and reliable drying machine that can effectively dry materials with high humidity and large specific gravity. Some common materials that can be dried using a bentonite dryer include cement, concentrate powder, slag, limestone, coal, clay, and kaolin. These materials are commonly found in industries such as building materials, metallurgy, and chemical industry. The bentonite dryer provides a reliable and efficient solution for drying these materials.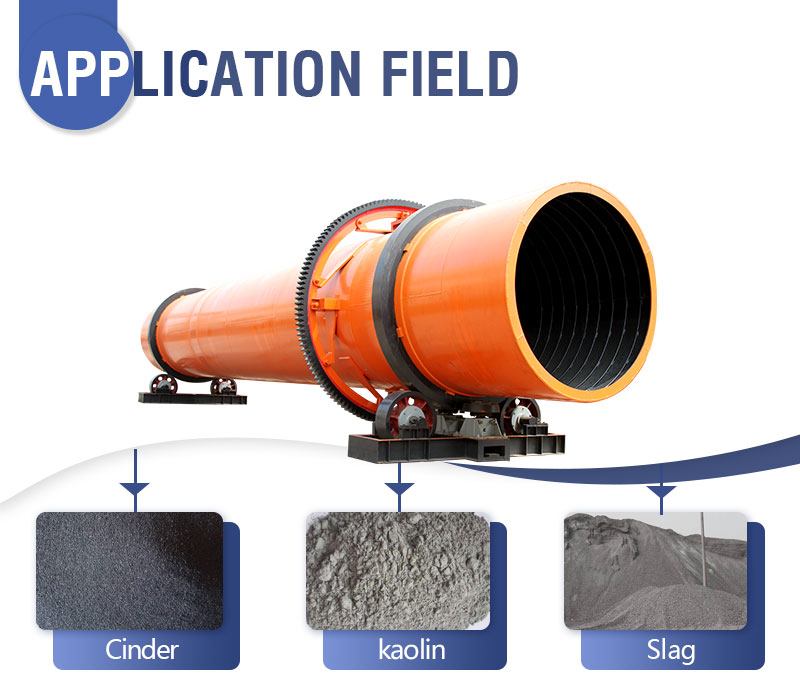 Examples of Bentonite Dryer Application
How Bentonite Dryer Works?
The bentonite dryer operates based on the principles of heat transformation and gravity. When the dryer is in operation, the drum is set at an angle of approximately 3-5 degrees. Wet bentonite is fed into the higher end of the cylinder through a feeding system and then falls onto a screen. This arrangement enhances the efficiency of heat transformation.
As the drum rotates, the bentonite is lifted by the blades and then falls back down. This promotes effective heat transfer between the hot air and the wet materials. Under the influence of gravity, the dried bentonite gradually moves down to the lower end of the drum and is discharged. During this process, excess liquid is removed. Additionally, a professional dust collector is installed to collect waste gas generated during the drying process.
Overall, the bentonite dryer utilizes the combined effects of heat transformation and gravity to efficiently dry wet bentonite, resulting in the production of dried bentonite with reduced moisture content.
Working Principle of Bentonite Dryer
The ZDM bentonite dryer offers several structural advantages, making it an ideal choice for the drying process. Some of these advantages include:
Large processing capacity and low fuel consumption: The dryer has the ability to process a large volume of materials while consuming less fuel, resulting in low drying costs.
High temperature resistance: The dryer can withstand high-temperature winds, allowing for fast drying of materials.
Strong scalability: The dryer can accommodate increases in production volume without the need for equipment replacement, making it flexible and adaptable to changing production needs.
Self-aligning tug structure: The tug and rolling ring of the dryer are designed to have good matching, reducing wear and power consumption.
Specially designed wheel structure: The wheel structure of the dryer minimizes horizontal thrust caused by the inclined working position, ensuring smooth operation.
Strong anti-overload ability: The dryer can handle heavy loads and operates reliably, with a smooth cylinder motion.
Overall, the ZDM bentonite dryer offers efficient and reliable drying capabilities with its large capacity, low fuel consumption, temperature resistance, scalability, and sturdy structural design.
Bentonite Dryer Installation
Zoneding Machine is a reputable supplier of bentonite powder dryers in China, specializing in intensive research and manufacturing of drying equipment. Our high-quality products have received excellent feedback from the market. Despite the exceptional quality, our bentonite dryers are competitively priced, ensuring affordability without compromising on performance. We also provide complimentary consultation services to assist customers in selecting the most suitable drying equipment based on their specific requirements.
General Specification
Spec./m
(Dia.×Length)
Shell Cubage
(m³)
Capacity
(t/h)
Installation
Obliquity
(%)
Highest Inlet
Air Temperature
(℃)
Main Motor
(kw)
Weight
(t)
Φ1.2×8.0
9.0
1.9~2.4
3~5
700~800
7.5
9
Φ1.2×10
11.3
2.4~3.0
3~5
700~800
7.5
11
Φ1.5×12
21.2
4.5~5.7
3~5
700~800
15
18.5
Φ1.5×14
24.7
5.3~6.6
3~5
700~800
15
19.7
Φ1.5×15
26.5
5.7~7.1
3~5
700~800
15
20.5
Φ1.8×12
30.5
6.5~8.1
3~5
700~800
18.5
21.5
Φ1.8×14
35.6
7.6~9.5
3~5
700~800
18.5
23
Φ2.2×12
45.6
9.7~12.2
3~5
700~800
22
33.5
Φ2.2×14
53.2
11.4~14.2
3~5
700~800
22
36
Φ2.2×16
60.8
13.0~16.2
3~5
700~800
22
38
Φ2.4×14
63.3
13.5~16.9
3~5
700~800
37
45
Φ2.4×18
81.4
17.4~21.7
3~5
700~800
37
49
Φ2.4×20
90.4
19.3~24.1
3~5
700~800
45
54
Φ2.4×22
99.5
21.2~26.5
3~5
700~800
45
58
Φ2.6×24
127.4
27.2~34.0
3~5
700~800
55
73
Φ3.0×20
141.3
30.1~37.7
3~5
700~800
75
85
Φ3.0×25
176.6
37.7~47.1
3~5
700~800
75
95
Φ3.2×25
201
42.9~53.6
3~5
700~800
90
110
Φ3.6×28
285
60.8~76.0
3~5
700~800
160
135
Technical parameters of indirect heat dryer:
Shell
diameter
×shell
Length
Items
Inside
diameter
of outer
shell
(mm)
Inside
diameter
of inner
shell
(mm)
Shell
Length
(m)
Shell
cubage
(m³)
Shell
obliquity
Lifting
blade
form
Highest
inlet air
temperature
(℃)
Dimensions
(m)
Φ1.5×15m
1500
500
15
20.27
3-5%
Lifting form
850
16.2×2.7×2.7
Φ1.5×17m
17
22.97
18.2×2.7×2.7
Φ1.5×19m
19
25.68
20.0×2.9×2.9
Φ1.8×21m
1800
650
21
35.91
3-5%
Lifting form
850
22.5×2.7×2.7
Φ1.8×23m
23
39.33
24.5×2.9×2.9
Φ1.8×25m
25
42.75
26.5×2.9×2.9
Φ2.2×21m
2200
800
21
58.10
3-5%
Lifting form
850
—-
Φ2.2×23m
23
63.61
Φ2.2×25m
25
69.15
Please note that the data provided above is subject to change as technology continues to improve. We reserve the right to make changes without prior notice. Additionally, the performance of our machines may vary depending on the specific application. For more detailed information and specific inquiries, we recommend chatting online with our team of Zoneding engineers who will be able to provide you with the most up-to-date and accurate information.