Hammer Crusher
Applied Material: Limestone, coal gangue, bluestone, coal briquette, glass, construction waste, granite, cobble, pebble, sandstone, zinc ore, basalt, plaster, brick and tile, etc.
Feed Size:

200-350mm

Capacity:

5-3000TPH
What is Hammer Crusher?
A hammer crusher is an impact crusher that is suitable for fine crushing. It is commonly used to break materials such as coal, gypsum, alum, brick, tile, limestone, and other brittle minerals in industries such as railway and highway construction, cement, building materials, refractory, ceramics, and chemicals. Hammer crushers have the ability to shape the crushed materials. One special function of the hammer crusher is its ability to break used glass for recycling purposes. The gap of the castor strips can be adjusted to change the discharge size, catering to different customer requirements.
Hammer crushers have several features, including a large crushing ratio, high production capacity, and uniform product size. They can crush materials with a maximum size of 600-1800mm into sizes measuring 25mm or smaller, which is why they are also referred to as crusher hammers or hammer mill crushers. Due to their frequent use in coal mines for coal crushing, they are sometimes called coal crushers.
Applications of ZDM Heavy Hammer Crusher
The ZDM Heavy Hammer Crusher, manufactured by Zoneding Machine, is used for crushing various hard and abrasive materials with a compressive strength of less than 100MPa and a water content of less than 15%. It is commonly used to crush materials such as coal, salt, chalk, gypsum, limestone, brick, and tile. It can also be used to crush fiber structures, recycle asbestos cement waste, and handle asbestos fibers.
The ZDM Heavy Hammer Crusher comes in different types, including the mini hammer crusher and the larger hammer crusher. These crushers can be used in stone crushing lines and sand making lines. Additionally, they can serve as a replacement for cone crushers in ore dressing production lines.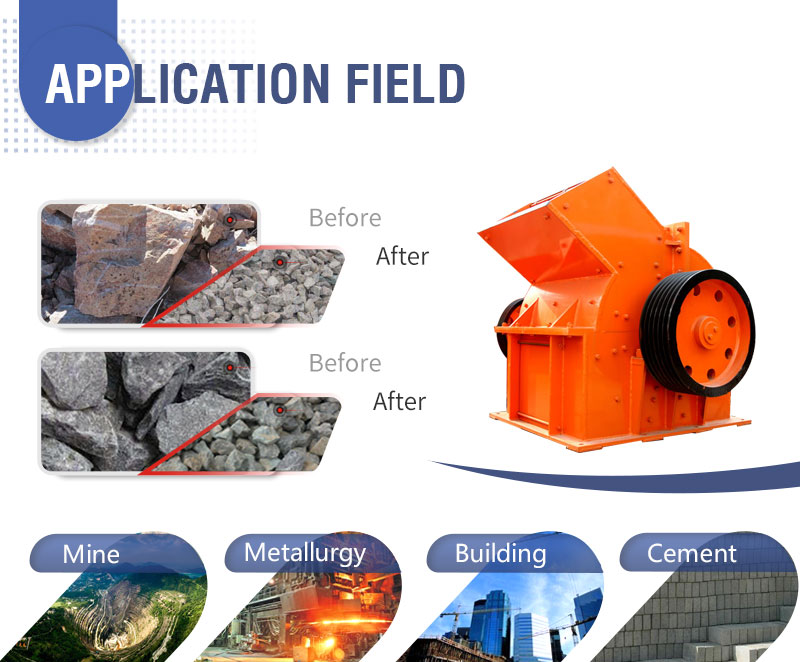 Materials before Crushing and Finished Products of Hammer Crusher
The Hammer Crusher offers several advantages, including:
Long service life: The use of grates for particle size control has been eliminated, reducing the wear on the hammer head in the crushing chamber. This improvement allows the main part, the hammer head, to have a service life that is 4-6 times longer than before.
Low power consumption: The heavy hammer crusher has achieved a change in the third-stage crushing effect to the first-stage, resulting in a 40% reduction in costs for medium and fine crushing.
Improved finished product shape: The specification of the finished product can be adjusted according to the requirements, allowing for coarse crushing, medium crushing, and fine crushing. The end products from the heavy hammer crusher machine are widely used due to their good shape and high anti-strength.
Highly wearable parts: The ZDM heavy hammer crusher uses well-made parts, especially in the selection of wearable materials. Alloy, which is an ideal metal for producing wearable parts, is used to manufacture the key part, the hammer head.
Other advantages: The hammer crusher has a high crushing ratio, usually 10-25, and can even reach up to 50. It has a strong production ability, a low powder rate, and is easy to operate and maintain.
How Hammer Crusher Works?
The hammer crusher works by impacting the materials with the high-speed rotating hammer head. As the hammer head rotates, it generates a high-speed impact force that crushes the materials. The materials enter the crushing cavity and receive the energy from the rotating hammer head, causing them to be crushed.
Once the materials are crushed, they are propelled towards the back plates. At the same time, the materials also collide with each other, further crushing them. The hammer head impacts, polishes, and squeezes the materials, resulting in the particles being extruded through the small gap between the hammer head and the sieve plate.
Through this process, the hammer crusher produces qualified particles that meet the desired specifications.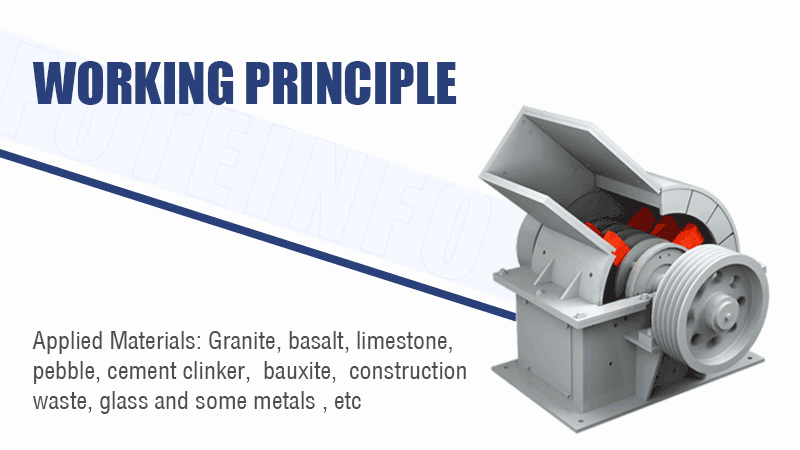 Hammer Crusher Working Principle
When selecting a suitable hammer crusher, several factors should be taken into consideration:
When selecting a suitable hammer crusher, several factors should be taken into consideration:
Hammer Crusher Types and Workshop
As a professional heavy hammer crusher supplier, Zoneding Machine is located in the heavy mining machinery center. We offer a wide range of hammer crusher types for sale, including heavy hammer crushers, ring hammer crushers, and mini hammer crushers.
At Zoneding, we have our own centralized hammer crushing machine factory, where we work hard to supply high-efficiency hammer crushers with good design to meet your specific needs. Our experienced engineers are available to provide free consultation, including information on hammer crusher prices.
With over 40 years of production experience, we continuously update our production technology to ensure that our customers can benefit from the latest advancements in hammer crusher design and performance.
Whether you are in need of a heavy hammer crusher, ring hammer crusher, or mini hammer crusher, Zoneding Machine is committed to providing you with the best solutions for your crushing requirements.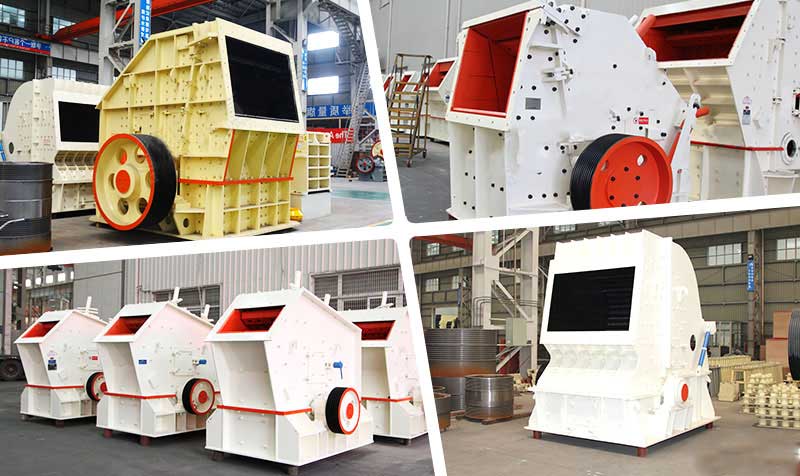 Different Types of Hammer Crusher at Workshop
General Specification
Specification
Capacity(m³/h)
Motor Power
(kw)
PCΦ400×300
5-10
4P 11KW
PCΦ600×400
10-22
4P 22KW
PCΦ800×600
18-40
6P 55KW
PCΦ1000×800
25-50
8P 75KW
PCΦ1000×1000
30-55
8P 90KW
Please note that data regarding hammer crusher types, prices, and production technology may be subject to change as technology improves. Zoneding Machine reserves the right to modify this information without prior notice.
Additionally, the performance of the hammer crushers may vary depending on the specific application. To obtain more detailed and up-to-date information, we recommend chatting online with Zoneding engineers who can provide you with the most accurate and relevant details based on your specific needs.