High Frequency Screen
Applied Material: Iron ore, tin, tungsten, tantalum, niobium sand and other concentrator screening or grading operations, also suitable for mineral processing, coal processing, chemical industry, brick making, food, pharmaceutical, alkali production, chemical fertilizer, paper making and other industries.
Power:

0.72-2.2KW

Capacity:

15–48TPH
The Introduction of High Frequency Screen
The high frequency screen, also known as a high-frequency vibrating screen, is a type of grading equipment used in concentrators. It is used to sieve or classify materials based on their particle size. The screen surface width can vary, allowing for effective screening and classification of materials. The high frequency screen consists of components such as a vibration exciter, pulp distributor, screen frame, chassis, suspension spring, and screen. It offers several advantages, including high screening efficiency, small amplitude, and high screening frequency.
This equipment finds wide applications in various industries, such as iron ore, tin, tungsten, tantalum, and niobium concentrators for screening and grading operations. It is also suitable for mineral processing, coal processing, chemical industry, brick making, food production, pharmaceuticals, alkali production, chemical fertilizer, paper making, and other industries. The high frequency screen is a versatile and efficient tool for screening and grading various materials.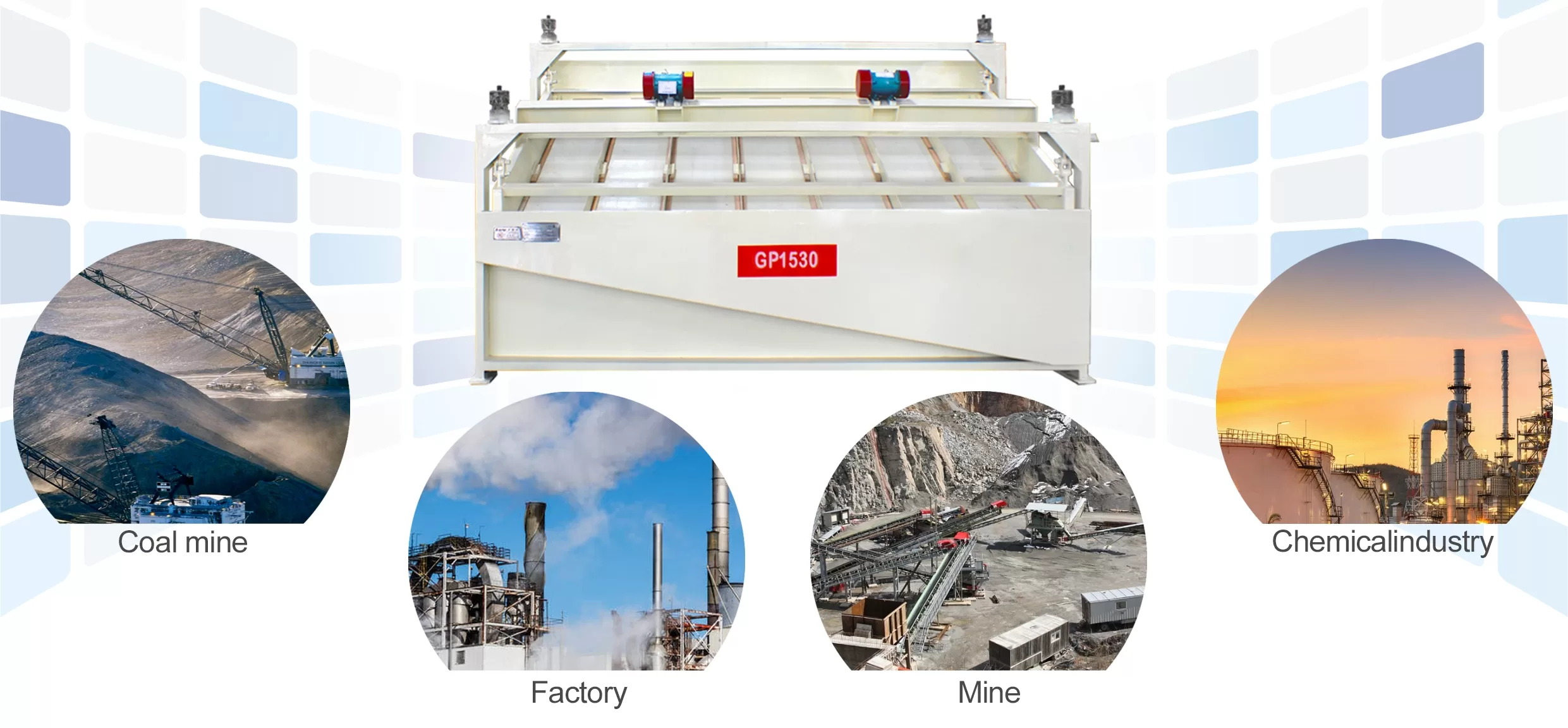 The Applition Fields of High Frequency Screen
The high frequency screen has several performance characteristics that make it an efficient and effective screening equipment:
High vibration and low amplitude: The high frequency screen generates high vibration to effectively reduce the surface tension of the slurry. This promotes the separation and layering of fine and heavy materials, speeding up the screening process.
Laminated screen with monolayer aperture: The high frequency screen uses a laminated screen with a single-layer aperture, which enhances the screen's lifespan and prevents blocking and wear.
Multi-channel feeding and high screen surface utilization: The high frequency screen allows for multi-channel feeding, maximizing the utilization of the screen surface. This results in a large processing capacity and low power consumption.
Rubber spring support and vibration isolation: The high frequency screen is equipped with rubber spring support, which provides vibration isolation and sound absorption. This results in low noise, minimal equipment load, and eliminates the need for a concrete foundation.
New structure for high efficiency: The high frequency screen is designed based on a new principle, incorporating a new structure that ensures high efficiency of the screen surface and the vibrating screen machine as a whole.
The working principle of the high frequency screen involves the controlled and classified screening of grinding products.
During the grinding process, the coarse grains are sifted out and returned to the mill for further grinding. This helps to ensure that the material is finely ground and that excessive grinding is avoided.
The high frequency screen effectively screens and separates the fine particles from the material. These fine particles are promptly discharged from the screen, preventing them from undergoing unnecessary grinding.
By timely screening and separating materials that meet the required fineness, the high frequency screen helps to improve the output of the mill, reduce energy consumption, and enhance overall efficiency.
In the dressing circuit, the high frequency screen is installed to screen the coarse concentrate and send it back to the mill for additional grinding if needed. The fine grains, which meet the desired fineness requirements, are selected and retained as a higher-grade concentrate.
In summary, the working principle of the high frequency screen involves efficient screening and classification of grinding products, enabling better control over the particle size and improving the overall performance of the milling process.
Here are the regulations on production safety and the steps to follow in the instruction manual of a high frequency screen:
Regulations on production safety:
Always start the operation without any load, and ensure that the screening machine is not overloaded to avoid damage and potential hazards.
It is strictly forbidden for any personnel to jump onto the screen during operation. If there is a need to clean the screen holes or handle any accidents, the equipment must be stopped first to ensure safety.
Preparation before driving:
Prior to driving the high frequency screen, carefully inspect the screen for any debris or coal slime that may obstruct the operation. Check for any damages to the screen and ensure there is no blockage at the feeding box opening caused by coal.
Check if the drain pipe and discharge chute are clear and not blocked. If any obstruction is found, take immediate action to clear it.
Verify that all parts of the high frequency screen are in proper working condition before initiating the start. When starting the equipment, stay away from the running components and closely monitor the starting condition of the equipment near the operating switch.
Following these regulations and steps outlined in the instruction manual will help ensure the safe and efficient operation of the high frequency screen.
High Frequency Screen Manufacturer
Zoneding Machine is a prominent mining machinery manufacturer based in Henan. They specialize in producing high frequency screens and have introduced new production technology. One of their strengths is having a complete production facility, allowing them to manufacture high quality equipment.
The most important aspect that sets Zoneding Machine apart is their commitment to providing excellent quality equipment to their users. They guarantee top-notch quality, which enables users to achieve higher income in their production processes.
It is always recommended to thoroughly research and consider multiple manufacturers before making a decision. This includes assessing factors such as reputation, track record, customer reviews, and after-sales service. This will help ensure that the chosen manufacturer aligns with specific requirements and budget.
General Specification
Specification
Model
Processing
capacity(t/h)
Power
(kw)
GPS-4
15-25
0.72
GPS-5
20-30
1.1
GPS-6
24-36
1.5
GPS-8
32-48
2.2
Please note that the data provided regarding Zoneding Machine's high frequency screen production technology and equipment quality may be subject to change as technology improves. Zoneding Machine reserves the right to make changes without prior notice.
It is important to keep in mind that machine performance may vary depending on the specific application and conditions it is used in. For more detailed information and specific inquiries, it is recommended to chat online with Zoneding Machine's engineers. They will be able to provide the most up-to-date information and address any specific concerns or questions you may have.