Introduction of Mixer
The mixer, also known as an agitating tank or a mixing tank, is a necessary equipment in various industries. It is driven by an electric motor with a v-belt to rotate the impeller, which helps thoroughly and evenly mix the drug and pulp. This increases the reaction time and strengthens the quality of the drug reaction. The mixer is commonly used in the mining industry and can also be used in the chemical industry for various mixing purposes.
The mixing tank is suitable for mixing medicament and pulp before flotation in the mining industry. It can also be used for stirring other non-metallic minerals. The tank is suitable for all kinds of metal ores and can be used when the concentration is less than 30% (by weight) and the particle size of the fixed component is less than 1mm. The mixer is designed as a flat-bottom barrel with a radial circulation spiral impeller for mechanical agitation.
Mixer consumables: impeller, stator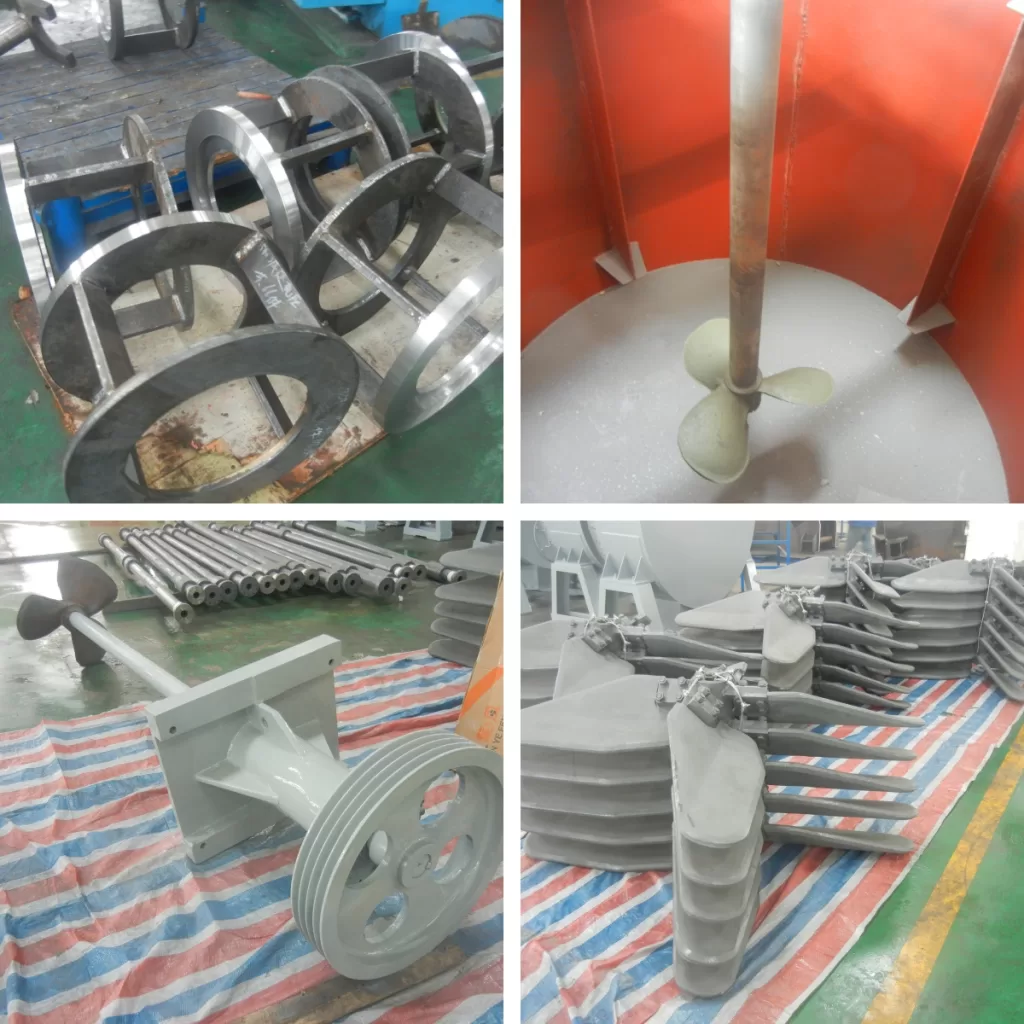 The Application and Function of Mixer
Mixing tank is a kind of essential equipment to fully mixing the reagent and the ore pulp, increasing the reaction time of the reagent and strengthening the quality of the reagent reaction. This machine is suitable for ore beneficiation industry, and can also for stirring the ingredients in all various industries.
The Working Principle of Mixer
When the mixer is in operation, the impeller's rotation causes the slurry and reagents to undergo circulation, both in large and small cycles, resulting in a uniform mixing of the components. The mixed suspension is then discharged through the overflow port.
To ensure thorough mixing of reagents and pulp, the mixer is typically positioned ahead of the flotation machine. It is specifically designed for use with pulp that has a mixed density of less than 3.5 and flotation reagents with a density of less than 30%. This allows for efficient and effective mixing in various industrial applications.
The mixer boasts several key features for optimal functionality:
Compact structure and good sealing: The mixer is designed with a compact structure and effective sealing to prevent water mist from backflowing, ensuring a reliable and efficient operation.
Baffle plate at the feed mouth: The presence of a baffle plate at the feed mouth helps prevent water mist from backflowing, further enhancing the sealing and preventing any potential leakage.
Even stirring and wide contact area: The mixer is equipped with stirring blades that fan out, resulting in even stirring and a large contact area between the stirring blades and the medium being mixed. This promotes efficient mixing of the reagents and pulp.
Multi-row nozzles for uniform and adjustable water yield: The mixer is designed with multiple rows of nozzles, which ensures that the water is dispersed evenly and can be adjusted according to specific requirements.
Low residual ash rate and effective drainage: The mixer incorporates a watershed setting at the bottom of the tank, effectively preventing any dead zones and ensuring thorough drainage. This feature helps minimize the residual ash rate and improve the overall quality of the mixed product.
Overall, the mixer exhibits advanced performance, providing stable and uniform mixing, as well as fast and efficient discharge of the mixed suspension.
Mixer Manufacturer
In China, a reputable mixer manufacturer is Zoneding Machine. They have a well-established production base and offer high-quality mixing tanks. Zoneding Machine is known for their advanced production process and complete manufacturing facilities. They provide users with reliable equipment that features exquisite technology, strong stability, and convenient operation. By using Zoneding Machine's mixers, production processes can become more efficient, saving time and labor costs. Ultimately, this can lead to higher profits for users.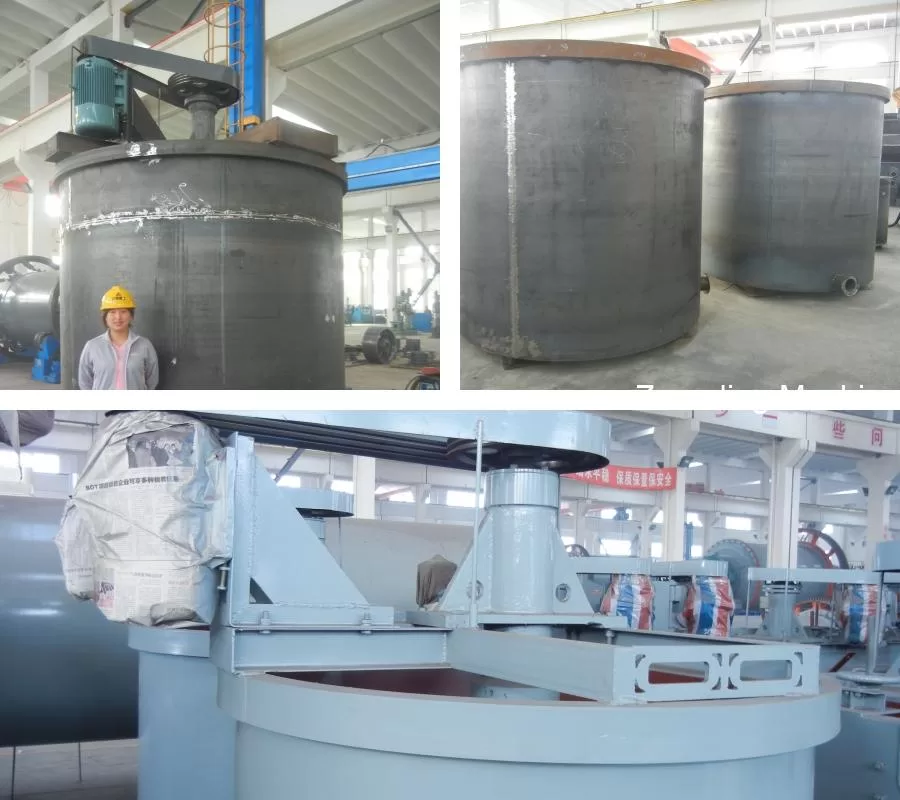 General Specification
Category
Specification
Model
Dimensions
Effective
cubage(m³)
Rotate
speed(r/min)
Motor
power
(kw)
Dimensions
(L×W×H)
(mm)
Total
weight
(kg)
Diameter
(mm)
Height
(mm)
Agitating
tank
XB-10×10
1000
1000
0.58
390
1.5
1130×1130×1521
1050
XB-12×12
1200
1200
1.18
390
2.2
1130×1330×1721
1160
XB-15×15
1500
1500
2.2
280
3.0
1750×1640×2190
1270
XB-20×20
2000
2000
5.6
210
5.5
2380×2160×2850
1700
XB-25×25
2500
2500
11.2
190
7.5
2990×2720×3540
3500
XB-30×30
3000
3000
19
140
18.5
4030×3270×3010
5200
XB-35×35
3500
3500
29
230
30
3920×3740×4970
6630
XB-40×40
4000
4000
45
210
37
4520×4320×5570
7830
Lifting
type
XBT-10×15
1000
1500
1
510
2.2
1130×1130×2070
1250
XBT-15×20
1500
2000
2.9
400
4
1636×1768×2785
1677
XBT-20×20
2000
2000
5.6
312
11
2180×2220×3015
3100
High-
efficiency
leaching
tank
XF-20×20
2000
2000
7.07
82.5
1.5
2032×2032×3595
2400
XF-25×30
2500
3000
13.5
57.6
2.2
2532×2532×4152
3670
XF-30×30
3000
3000
22.97
50.0
2.2
3180×3180×4673
5340
XF-35×40
3500
4000
35.6
41.0
4.0
3685×3685×5314
7140
XF-40×45
4000
4500
52.78
33.5
4.0
4185×4185×5814
9300
XF-45×50
4500
5000
74.75
33.5
5.5
4685×4685×6466
10500
XF-50×56
5000
5600
102.1
30.6
5.5
5185×5185×6975
12300
XF-55×60
5500
6000
135.4
24.4
7.5
5670×5670×7569
13500
Please note that the information provided above is subject to change as technology improves. We reserve the right to make changes without prior notice. The performance of the machine may vary depending on the specific application. For more detailed information and specific inquiries, it is recommended to chat online with the engineers at Zoneding. They will be able to provide you with the most up-to-date and accurate information regarding their products.